Exhibition: John Gollings – The history of the built world
John Gollings is Australia's most pre-eminent and prolific photographer of the built environment. For the past 50 years he has been synthesising his parallel interests in photography and architecture to explore the cultural construction of social spaces. From sacred rock art sites and ancient temples to suburban dream homes and the monuments of corporate architecture, Gollings's catalogue of images provides a remarkable visual history of human habitats. The history of the built world is the first major survey of Gollings photographic practice, and offers a much anticipated opportunity to appreciate the full breadth of his unique photographic vision.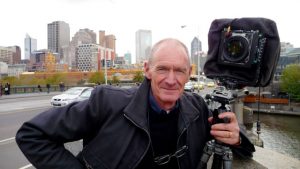 'In Australia, John Gollings has been making pictures of architecture for going on forty years. For nearly all the last third of the twentieth century and all of this to date, he has recorded the progress of modern architecture here and elsewhere. No other photographer I know, I will venture, has been as prolific in capturing the essence of the modern Australian building: houses, carparks, sheds, toilets, public buildings, tall buildings, low buildings, wide buildings, freeway walls, road tunnels, cityscapes, John Gollings has photographed them. Often at speed: go in, get the shot, get out.  It is likely that many of the photographs of Australian buildings we see published in books and magazines were taken by Gollings. His pictures are surely among the most reproduced and they have in and of themselves played a major role in shaping our perceptions of modern Australian architecture. They comprise a diverse mosaic of the evolving urban environment and a rich resource documenting the progress of architecture of the last forty years.' from John Gollings website
Monash Gallery of Art, Wheelers Hill. Victoria.
2 December 2017 – 4 March 2018
Main photograph: Vijayanagara India by John Gollings.