Review: Chamonix 45F-1 4×5 camera by David Tatnall
Chamonix cameras have been made in Haining in Zhejiang Province China since 2005 by a small company of eight craftsmen. They make eighteen camera models from 4×5 up to 20×24 from wood, carbon fibre and anodized aluminium.
This is a review of the 45F-1 folding field camera model.
Context
This is my third 4×5 field camera. My first, a lightweight (one kilogram) wooden field camera purchased in the1970's lasted nineteen years. It was replaced with a metal field camera that despite new bellows and two major repairs due to being blown over was going well until an encounter with a wave finally seized up the movements. It lasted twenty-two years. If this camera lasts as long, I'll be well into my eighties went it needs to be replaced.
45F-1 showing Frensel screen, focusing knob, rear tilt & asymmetrical tilt knob & three of its five spirit levels.
The camera
Straight out of the box, my first impressions were its beautiful finish, and its light weight (weighing only 1550 grams).
Once the camera is on a tripod, the rear standard simply lifts up and is locked in place with two knobs on either side. There are two small lugs that hold the rear standard at 90°. These disengage to allow the standard to move forward or backwards.
The front standard is not attached to the base plate, there are five screw holes along the base plate and the front standard screws into one of them (depending on the lens you choose). Very simple and straightforward.
Lens boards are 'Linhof' type 96 x 99 mm. These attach with two semi circle locking devices.
The camera comes with a universal bellows, that can be used for very wide angle and long lenses. Bellows maximum extension is 395 mm and minimum is 52 mm. (Lenses I use are 75mm, 90mm, 150mm and 210mm). The bellows can be easily removed for the installation of bag bellows.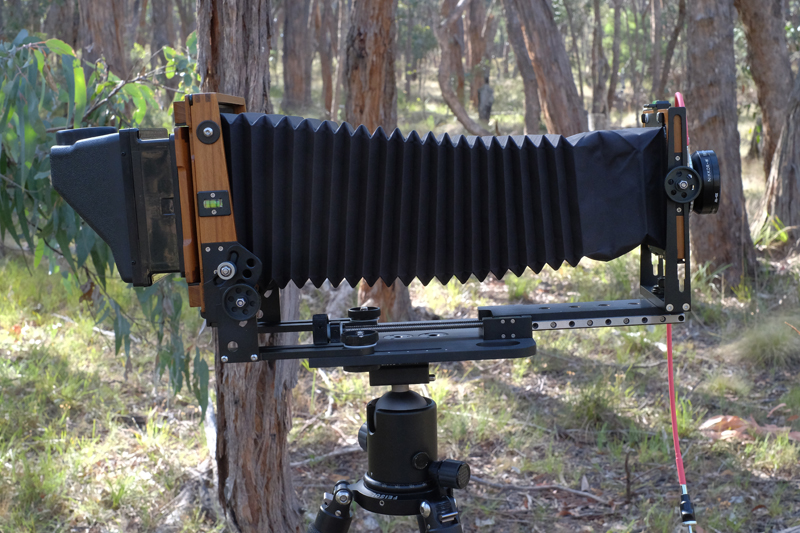 45F-1 showing bellows extended to 395mm. With 45 degree reflex viewer attached.
My previous cameras didn't have spirit levels built in, but the 45F-1 has no less than five spirit levels attached to the camera.
The camera is capable of a great degree of movement; front rise 45mm, fall 30mm and shift 20mm; tilt and swing is only limited by the bellows; rear tilt 20 degrees backward, forward is limited by the bellows; rear swing is 20 degrees with no shift. Asymmetrical tilts of the rear standard are possible with this camera, making the use of the Scheimpflug Principle in composition practical.
45F-1 showing some of its movements. With 45 degree reflex viewer attached.
The camera comes with a carbon fibre ground glass protector and a material camera wrap. I ordered an additional Fresnel screen with my camera. There are a number of other accessories available, including wide angle and standard bellows, extension boards for macro photography (this extends the bellows to 450mm), a folding viewer, a 45° reflex viewer and a folding viewer with carbon fibre cover.  There is also a leather 'jacket' protector. Roll film and other holders can be attached via a Graflok mechanism.
Using the camera
I've now used the camera enough in different conditions – ranging from minus 10°c in the Alpine National Park in winter to 38°c in mid summer in woodlands near Melbourne – to be comfortable in writing this review.
Setting up the camera (as described above) is simple, quick and straightforward – even with gloves on in minus 10°c.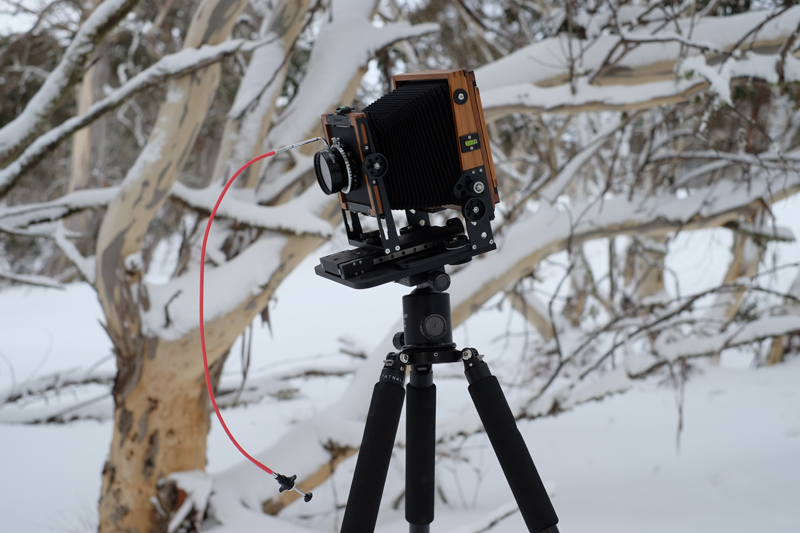 45F-1 with 150mm lens. The Razorback, Alpine National Park, Australia.
Possibly the biggest difference between this camera and other field cameras is the focusing. On almost all other field cameras focusing is achieved with knobs on both sides at the front of the camera bed. On Chamonix cameras it is centrally located under the ground glass at the rear of the camera. This is a far more logical place to focus the camera as usually one hand is holding a loupe on the ground glass. Having the focusing knob directly under the ground glass is far more ergonomic. It took me very little time to get used to this considering I've been focusing view cameras with front focusing knobs for more than forty years.
All the control knobs are easy to use, the focusing knob doesn't have a lock, but due to its clever design doesn't slip or move until the knob is turned.
Small white dots on the front standard, base plate and rear enable the camera to be returned to neutral position with ease.
Using the camera; from getting it out of the pack, setting it on the tripod opening it and putting on a lens takes very little time. Focusing is very straightforward and making camera movement adjustments is very easy and ergonomic. Orientation from horizontal to vertical is done by lifting two levers removing the back and replacing it and locking levers.
Folding the camera up after use does require a little practice as knobs on the base plate need to be in a position to clear the folding front standard. But after a couple of goes at it, this becomes second nature.
Conclusions
In teaching large format photography workshops I have been fortunate to see a good number of different cameras used by workshop participants. Chamonix cameras stand out as cleverly designed, well-made and practical.
When I retired my metal 4×5 camera my replacement choice was simple, having handled several Chamonix cameras it seemed an obvious decision. It is an excellent lightweight view camera that is ideal for backpacking. It is robust and sturdy making it an ideal camera for landscape. Its versatility with movements also make it a very good camera for architectural and general photography use.
The ease in which bellows can be changed and attachments added such as the 45° reflex viewer, make it a very attractive and practical camera.
Photographs I have made with this camera so far have been very pleasing, and I look forward to using it for many years to come.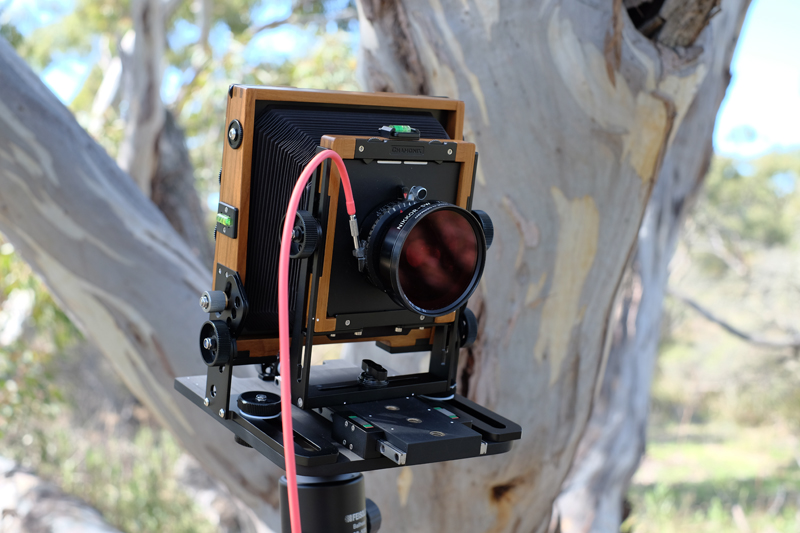 45F-1 with 75mm wide angle lens. Little Desert National Park, Australia.
Chamonix cameras  http://www.chamonixviewcamera.com
David Tatnall https://en.wikipedia.org/wiki/David_Tatnall
45F-1 The Razorback & Mount Feathertop. Alpine National Park, Australia.
The photographs below have been made on the 45F-1 in the past ten months. All silver gelatin prints 24 x 30 cm.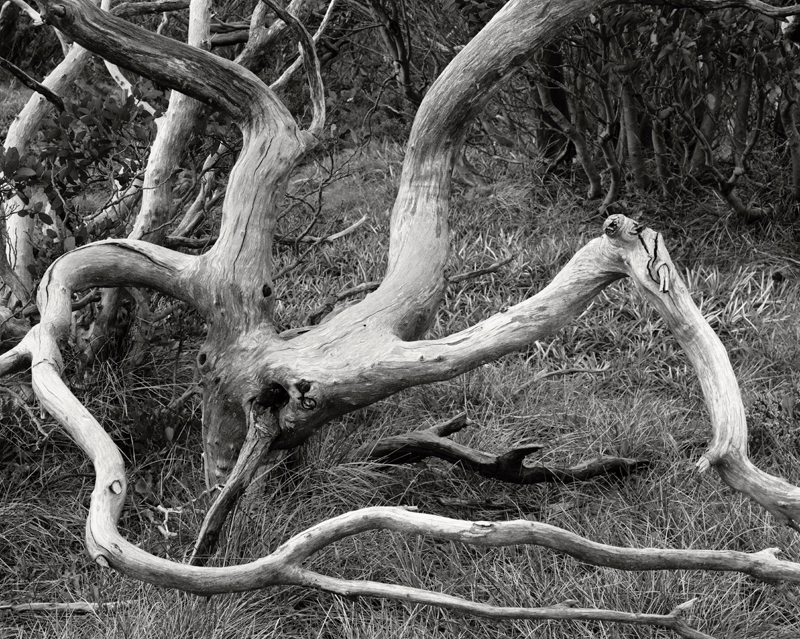 Burnt snow gum. The Razorback 2017. Alpine National Park.
Snow gum bark 2017. Mount Buffalo National Park.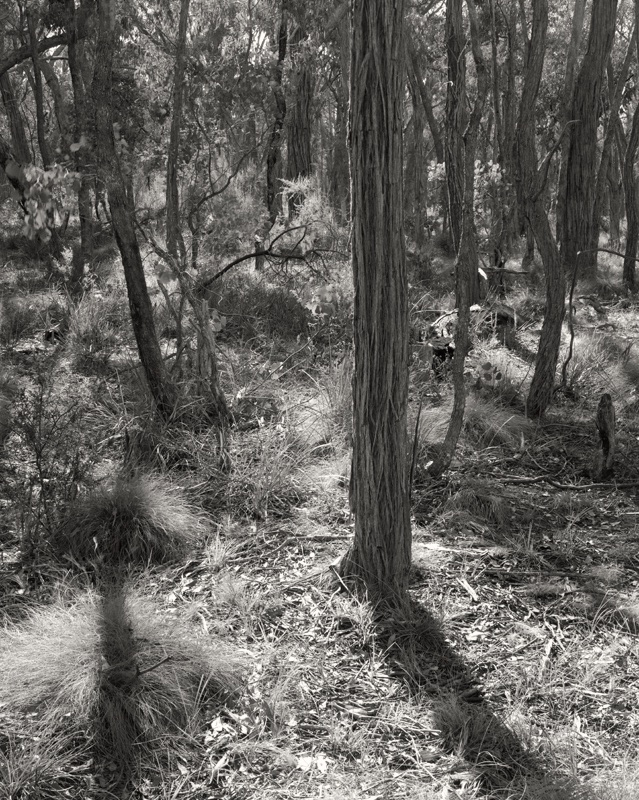 Woodland 2018. Castlemaine Diggings National Heritage Park.