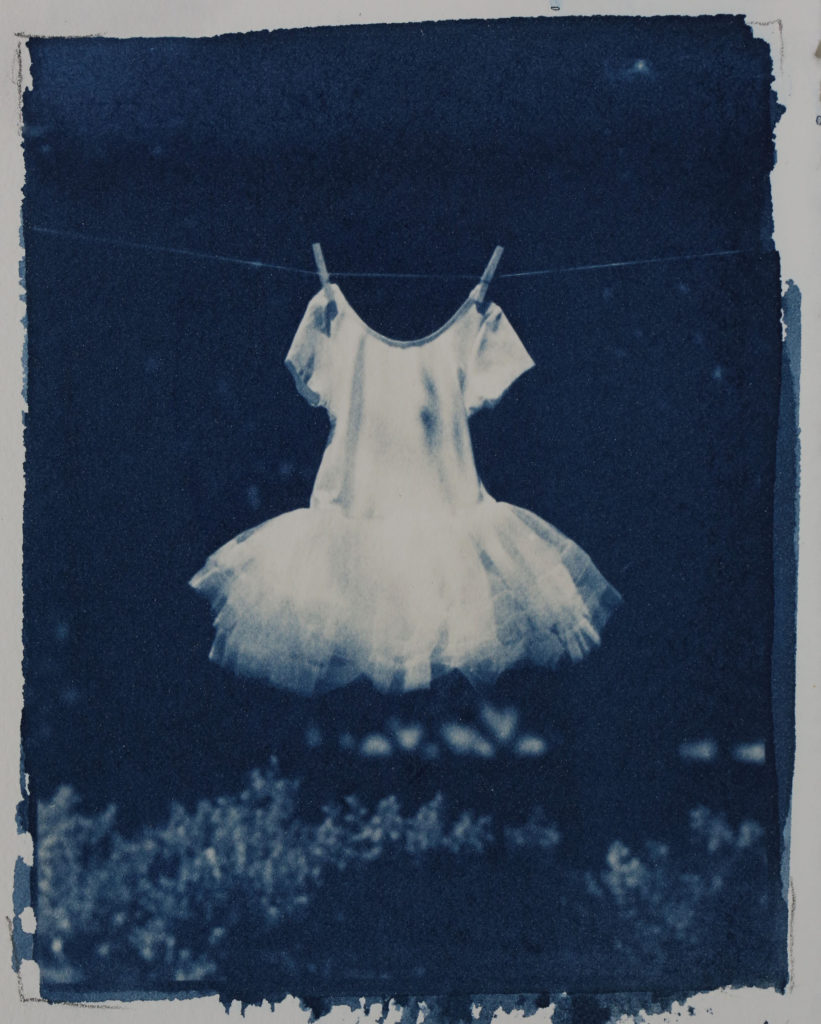 Workshop: Cyanotype and Van Dyke printing with Kim Sinclair
Learn how to produce stunning vivid blue Cyanotypes (sun prints) and warm brown Van Dyke prints in this two-day workshop with photographer Kim Sinclair.
PhotoAccess. Canberra 14 & 15 April 2018
From a brief introduction to digital negatives, to the preparation & tools required, this interactive workshop aims to provide you with a detailed understanding of Vandyke and Cyanotype printing.  After 2 full days of learning hands-on print & toning techniques you will gain an overview of the history of these two processes and leave with the 'know-how' and options available to continue creating your own unique pieces of art.
Main photograph: Kim Sinclair, Tutu, 2018, Gum over Cyanotype, 10.5cmX12.5cm
'Kim Sinclair spent two years drawing & painting at the Ontario College of Art & Design in her native Toronto, Canada before a summer class in basic photography shifted her focus & passion to Photographic Arts. At a time when digital photography was beginning its great revolution in the
photo industry, Kim continued her work in traditional silver gelatin print methods and explored historic photographic processes, primarily Cyanotype & Vandyke.  Graduating with a diploma in Photomedia, Kim received the Verant Richard's Award for excellence in Alternative Photographic Practice and earned a 6-month darkroom scholarship to Gallery 44, the foremost artist-run Centre for Contemporary Photography in Toronto.
After exhibiting and working for nearly ten years in the movie and commercial photo industry in Toronto, Kim moved to Canberra, Australia in 2001. Since then, she has tutored many classes in traditional darkroom and alternative photographic practices.  Today, Kim divides her time between family and her photographic arts practice as she continues to produce, exhibit and contribute her artwork to projects. Influence from an early drawing & painting background is evident in the loosely brushed, paint-like application Kim often utilises. Multiple imagery, layering techniques and sequencing methods are also arrangements characteristically recognised throughout much of Kim's work.'