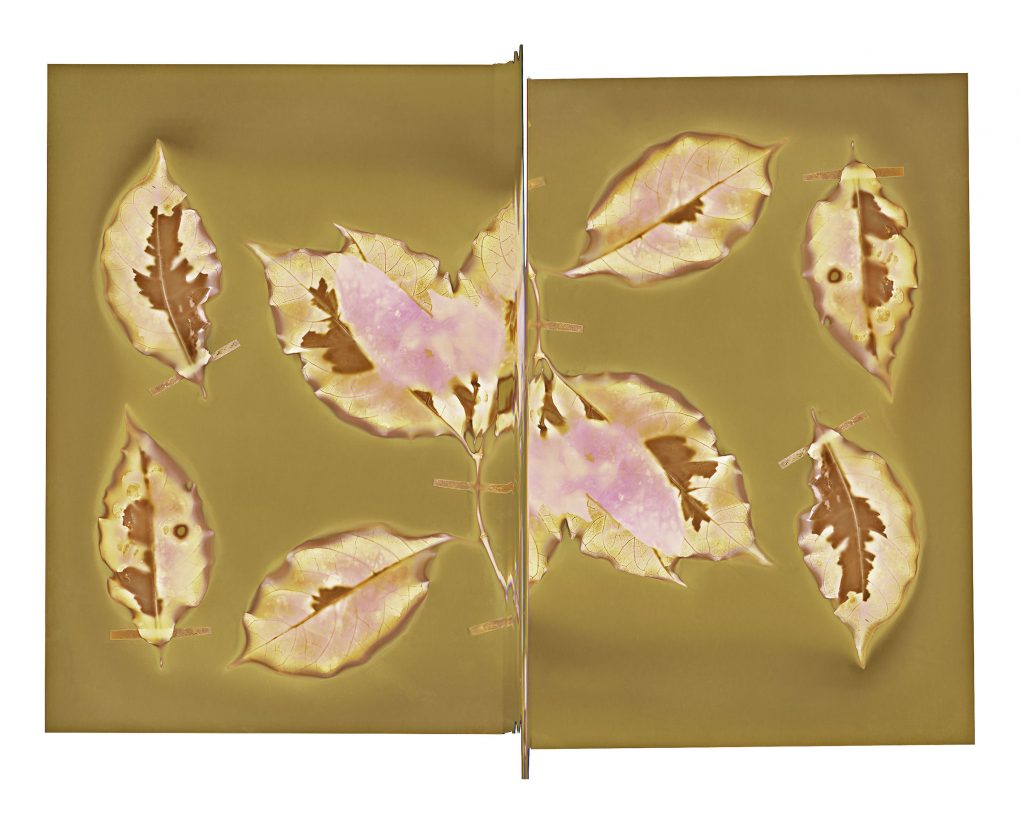 Workshop: Experimental cameraless photography with Kate Robertson
'In this one-day workshop participants will engage with analogue and digital alternative photographic processes, combining Lumen printing and Scanography. You will be encouraged to embrace the experimental and unpredictable nature of these cameraless processes. Discover how errors can be transformed into new possibilities.
By embedding materials directly onto the photographic paper and the flat bed scanner, you will make images that actively shift between digital and analogue to consider the differences between these technologies for capturing light and manipulating images. In the workshop participants will create original images using both techniques. The resulting images will then be used in the creation of new images by combining the two technologies.
This workshop is suitable for people with no previous experience or intermediate experience of alternative photographic processes.'
Lumen printing is a solar photogram, where objects (often organic) are placed directly onto the light sensitive photographic paper and developed by sunlight, creating a negative impression of the object in variety of coloured hues.
Scanography is the process of capturing digitised images with the use of a flat bed scanner. Pre-existing images can be distorted and manipulated by the scanography device. While the digitisation is taking place, participants can consider moving, flipping and removing objects to develop glitching in the image data.
Centre for Contemporary Photography, Fitzroy. 5 October or 23 November 2019
Kate Robertson is an Australian photographer whose work reveals unseen yet felt phenomena relating to healing and connectedness within community and environment contexts. Through long-term field research and participatory engagement, she aims to translate and transfer found energy within these settings into photographically aligned forms and concepts. Kate utilises digital and analogue experimental and cameraless photographic methods on location and in the studio. She has exhibited in Australia, United Kingdom, Germany, The Netherlands, China and New Zealand. Recent exhibitions include Recording the Medicinal Plants of Siwai, Bougainville, Jarvis Dooney Galerie, (2018); New Matter, Art Gallery of New South Wales (2016); The Alchemists, Australian Centre for Photography (2015); Garnkiny to Ganyu: Artists who capture the night, GYRACC (2015); Galerie Pavlova, Photo London (2015). In 2018, Kate's work was published in a book titled Kuna Siwai Pokong, which has been accessioned into the Papua New Guinea National Museum and Art Gallery (PNG), Australian Museum (AUS) and Field Museum (USA).
Main image above: Kate Robertson, SIGARATA (kang koring peu ahkarei koring / for white spots on skin, dandruff and nappy rash), 2016