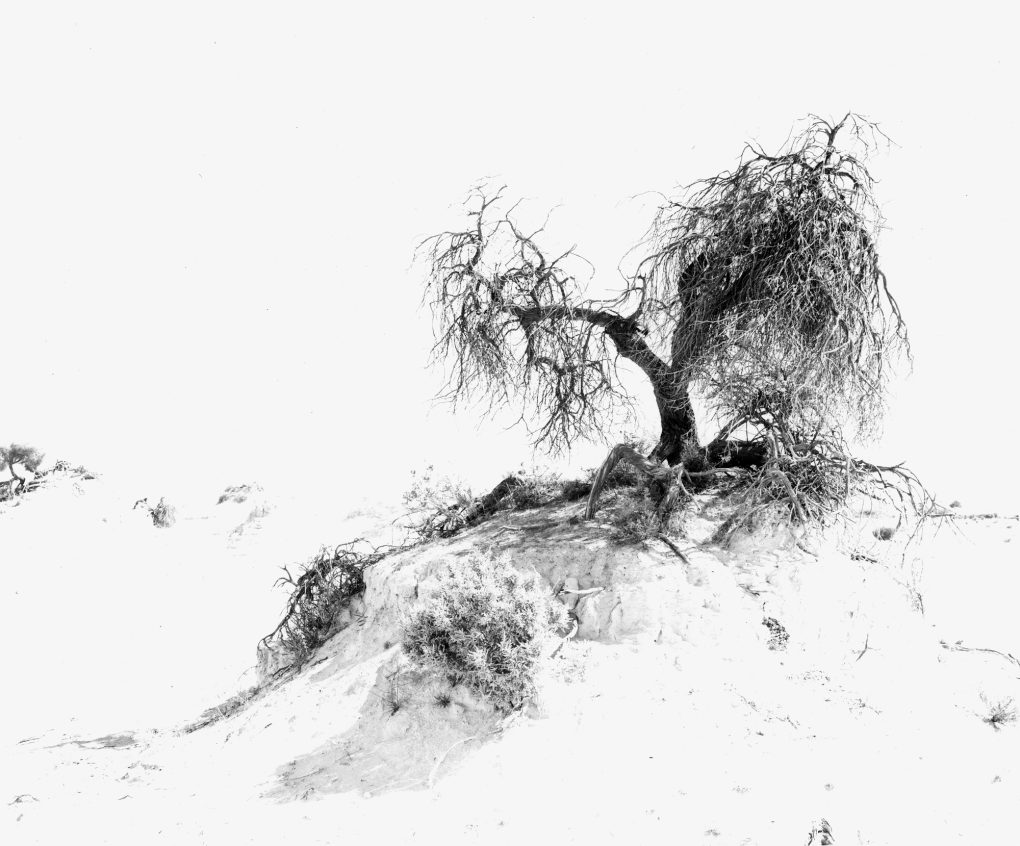 The Photograph Considered number nineteen – Kate Baker
White Heat Mungo. Silver gelatin print
It had been raining for a week and the roads into Mungo were closed. The rain stopped and I drove to the park entrance, just in case access was allowed. It seems the park had indeed been reopened and we two travellers were the only people there for several hours. Mungo, thousands of years ago, was a lake and a very important meeting place for local Aboriginal tribes. Scientific evidence shows that Aboriginal people have lived at Mungo for at least 45,000 years. The sun seared at 40°C , which after the rain, seemed piercingly intense. The spirit of the land felt omnipresent. This lone tree spoke to me from afar, compelling me to see it, drawing me toward it, asking me to be its witness. Heat, sand dunes, tripod, and a 4×5 field camera, it seemed this tree, the camera and I were the only beings on earth in that moment.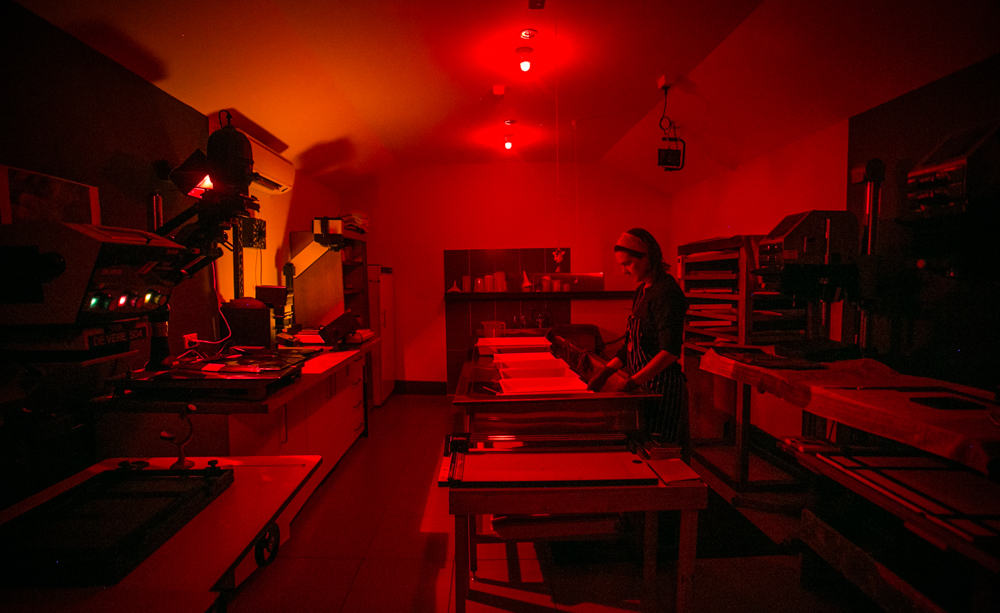 Kate Baker in her darkroom.
Print Details:
This print (edition 3 of 5 in 20 x 24 edition) was made in January 2013.
It is a silver gelatin photograph. The negative itself is fairly dense. When printing, I give it extra time under the enlarging light and then as soon as the blacks emerge from the print, pull it quickly from the chemistry. This development is short and snappy and supports the drawing/like quality of the photograph. Many people over the years have assumed it is a drawing and have been surprised to learn it is in fact a silver gelatin photograph.
The photograph is editioned in 3 sizes: 8 x 10, 16 x 20 and 20 x 24. Often a photograph lends itself to a particular size. Somehow this one works in any size and holds its own.
Certainly I feel this photograph was a gift. I like the way the shadow under the tree on the bank of sand looks as though it has been shaded with a pencil. I like the fine lines of the tree and the tiny tree in the distance on the far left. The delicacy of the print is far more apparent in real life than on screen. Some photographs do stand the test of time and this has been one of them for me. My barometer of worthiness tends to be my own sense of the photograph, as distinct from other people's acknowledgement, though I am pleased to say people are drawn to this particular photograph, perhaps more today than they were 15 years ago when I made it. It took me a long time to actually exhibit this photograph. I wasn't sure where it 'fitted'. In fact the first time it was publicly exhibited was nearly 10 years after I stood on that Lake Mungo sand.
White Heat Mungo is, in some ways, quite different from my usual style of photograph – if you saw it on its own you wouldn't identify it as a 'Kate Baker photograph', however when people see it in context with my other photographs, it somehow rests among and alongside that broader body of work. To me it resonates with my notion of photography as an alchemical journey of connection. There are many photographs I have made over the years which may be technically and artistically worthy photographs that I have chosen not to show, simply because to me they don't resonate with my sense of who and what I am about. This photograph has somehow, quietly, found its own rightful place irrespective of any first impressions, a little like that resilient, lone tree within the immense landscape of Lake Mungo.
More of Kate's work can been seen on her website.
Photography as an alchemical journey of connection.
An Australian fine art photographer, I work primarily with black and white film. What interests me is the way photography can reach into the depths of the 'soul' of something, allowing a pathway to connection to that which is both within us and greater than us. Whether that be portraiture or a landscape, an exploration of windows or a collaborative work inspired by Nijinsky or the lyrebird, I am interested in the essence of things and the mystery within and beyond.
Since 2005 I have exhibited in galleries in Australia and Berlin and currently my work has gallery representation in Berlin and Melbourne. My photographs are held in collections in Australia, the US and Europe.
Using black and white film with a range of small, medium and large format cameras, I handcraft gelatin silver prints in my darkroom and studio in the Yarra Valley in Victoria.
An interview with Kate Baker can been seen here.
Kate Baker with 4×5 camera.