The Photograph Considered number thirteen – Anna Fairbank
Governor's Island. Silver gelatin print
I work across architecture, art and environment, combining design, photography and sculpture. Photography has been a focus since childhood: recording textures, landscape space and city form, which later progressed to street photography experiments in 35mm.
Photography became a way to re-consider spatial power and hidden themes in architecture and environments. Interpretative projects such as Eugene Atget street works and Wolfgang Tillmans every-day constructs led to capturing city detritus and other incidental remains of city systems as alternative aesthetic orders. Photography for me is an investigative opportunity to draw conversations on cultural values, and what time and space is embedded in the view plane.
Images often inform the direction of lectures and exhibitions and often relate to ideas of un-design, un-architectures; more intended as a specific form of thinking and re-programming the way environments are comprehended. Large format work is also critical in learning the control of this scene as is the darkroom processes since there is the scope to re-render and see incidental things appear in detail- an emergence of other qualities.
Most recently photographs were presented as a form of agency in discussing global and economic impact on experiencing places at Venice Biennale 2016 Sessionsas a participant with Iowa State University Faculty of Architecture and at talks at institutions such as Melbourne School of Design and Australian Institute of Architects. In these instances, negatives are scanned for digital presentation at larger scales along with drawings and objects.
In 2013, I participated in two formative workshops, Large Format Photography with Richard Rothman, and the Fine Print in Black and White with Brian Young at the International Centre of Photography in New York. During this time, I was interested in the vertical and horizontal forms of city and landscape and took advantage of school's library to study the legacy of American large format photographers in this context.
The image shown here is one of the first series taken of Governor's Island Barracks in New York showing the assembly of brick institutional buildings near a stone fort. This was shot on Ilford HP5 and printed at 16 x 20 on silver gelatin Ilford Multi-grade matte paper in the ICP darkroom. The camera used was a Toyo 4 x 5 and Schneider 90mm lens.
The image was also shot an overcast day, preferred for the textures of the masonry and grass. The final image here is the scanned monochrome negative, spot cleaned for dust, whereas the original print embeds all the qualities of on-site reality and darkroom process. Recent prints on metallic paper have brought out a subtle bright range and edge to the image compared to softness in the mate paper.
The space here is interesting as at first it appears on rounding the curved facade as an uninhabited space in dialogue between two architectures. It is also reminiscent of a deliberate stage set with concertina layering into a deeper space beyond a secret passage. This quiet, yard during that summer belies the action happening beyond the frame and forms a temporal rift with the Manhattan energy at this popular site for arts events. The image is a personal reminder of site specificity and how the camera view plane controls the scene in time. The image belongs to a series of photographic works and sculptures in BRICK. Exhibition hosted by Molecule studio in Melbourne in 2013, that examined this most ubiquitous of building materials as socio-political ready-mades and artefacts.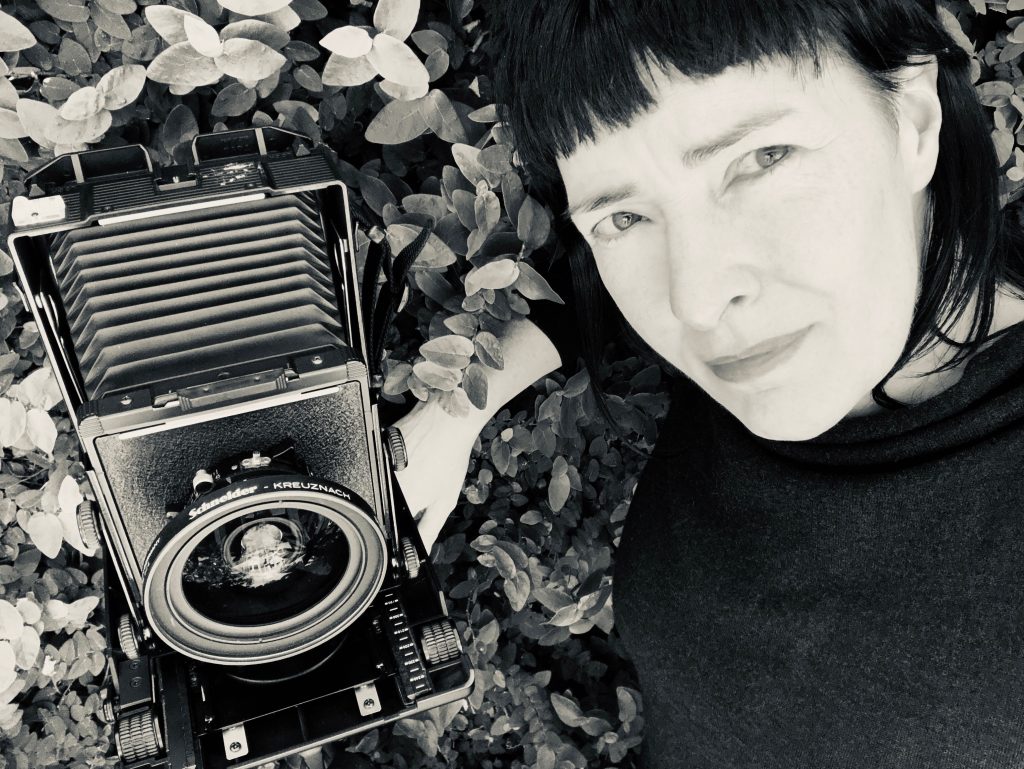 Anna Fairbank with 4×5 camera