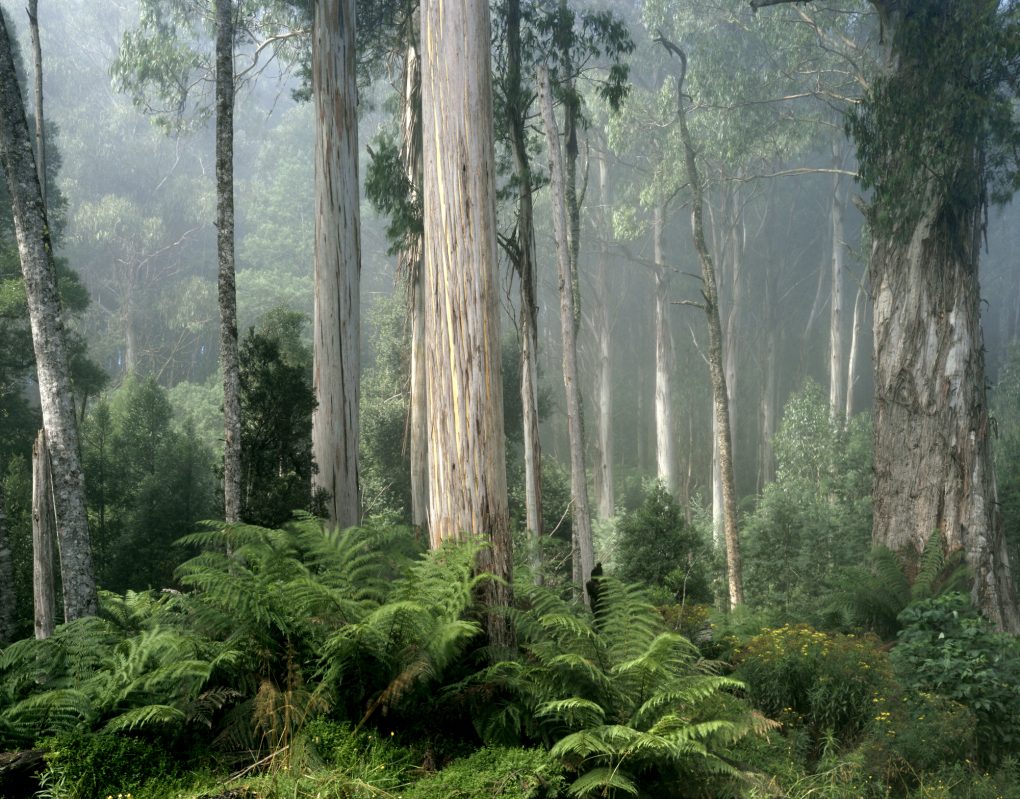 The Photograph Considered number twenty – David Tatnall
The State Library of Victoria has recently purchased Forest at Coast Range a significant photograph in the history of conservation in Victoria. Here David Tatnall explains the making of the photograph.
Forest at Coast Range. 1986. Chromogenic print.
In early autumn 1986 I was camped at Frosty Hollow on the Errinundra Plateau in Victoria. The plateau and nearby Coast Range are around 1000 metres above sea level and are often fog and mist bound. But not this week. It was perfect weather for walking, not too hot, a slight cooling breeze. Clear blue sky. Too bright and sunny for making photographs. From my camp I ventured easterly along Coast Range Track to near Curley Creek. The forest here is dominated by Shining Gums – Eucalyptus nitens and the Errinundra Shining gum – Eucalyptus denticulata. These trees can grow up to 90 metres in height. The annual rainfall here is around 1.4 metres so even in a dry autumn the forest is pleasant and damp.
Sometimes things can happen when you least expect. Standing looking at a multi age stand of trees, I though to myself if the light was not so bright this would make a good photograph. Then the light changed. Being at around 1000 metres above sea level clouds often drift into the plateau. One did. The light remained bright but was now defuse and perfect for making an image. I set up my camera – a wooden folding 4 x 5 camera. I only carried one lens, a standard lens, giving the same point of view as the human eye. Using a hand held exposure meter I calculated the camera settings. I was using colour transparency film, which has a very small tolerance, it's either correctly exposed or it's not; in photography terms, half a stop out and it's no good. The cloud was moving, I could see it wasn't going to stay perfect for too long. I made two exposures. The one illustrated here, and another, a vertical image. The light then changed back to bright and sunny. They were the only two images I made that day.
The rest of the day I enjoyed walking through the magnificent tall damp forest. Then back to Frosty Hollow. These forests were under imminent threat of clear felled logging. A Land Conservation Council investigation was going on at the time, a process where public land was looked at by experts, the general public, and vested interests to come up with the best use of the land. Previously, commercial interests had been placed above anything else, but now all of the values of the land, including environmental values, were up for discussion. The logging industry remained a powerful lobby group, but these old growth forests were far too important to be destroyed for profit by a few.
I had been making photographs of the East Gippsland forests for a number of years. Driving into places and setting up a base camp then venturing out into the track-less forest making photographs. It's a slow and costly process using a large format camera. I tended to only make photographs when the light was as good as it could be. Walking and carrying the camera meant the bulky film holders – two sheets of film per holder – were kept to a small number. The day I set out and made this photograph I had six sheets of film. I came back to camp with four unexposed. Colour transparency film was at that time processed at a commercial laboratory. The process called E6 was best done in regulated conditions by technicians. If the exposure was correct the resulting image looked stunning. The movements of the 4 x 5 camera enable depth of field and perspective control, coupled with the clarity of the lens and brilliance of transparency film, makes these images stand alone in photography.
The photograph went on to have a life of its own. It was published in the Wilderness Society calendar in 1987. Made into a poster that sold over 10,000 copies. It became the image that helped save these forests. The Errinundra Plateau and the Coast Range were legislated as national park by the Joan Kirner Australian Labour Party Government on 15 July 1988, two years after the image was made. The surrounding forests were earmarked to be gutted by the loss-making timber industry; the compromise was in their favour. But, Errinundra National Park has become a tourism icon, generating money and jobs while preserving the old growth forests.
Technical information:
The photograph was made on a folding 4 x 5 field camera using the standard 150mm lens. No filters where used. The film was 64 ISO colour transparency film that was processed in standard E6 chemistry.
 
The chromogenic print is 80 x 100 cm.
 
Exhibition history:
The Alps & East Gippsland. Wilderness Society Gallery. Melbourne. 1988
Location, Landscape & Lies. Monash Gallery of Art. 1995
Portrait of Trees. Zetta Florence. Fitzroy. 2002
Seeing Forest And The Trees. Castlemaine Art Gallery. 2003
A Portrait of Trees. Warrnambool Art Gallery. 2005
Seeing The Forest And The Trees. Monash Gallery of Art. 2005
Natural Forests. Cyclone Gallery. South Melbourne. 2011
Purchased by State Library of Victoria. 2019
The State Library of Victoria now holds seventy photographs by David Tatnall in the collection.
An account of the making of another significant East Gippsland forest photograph can be seen here.