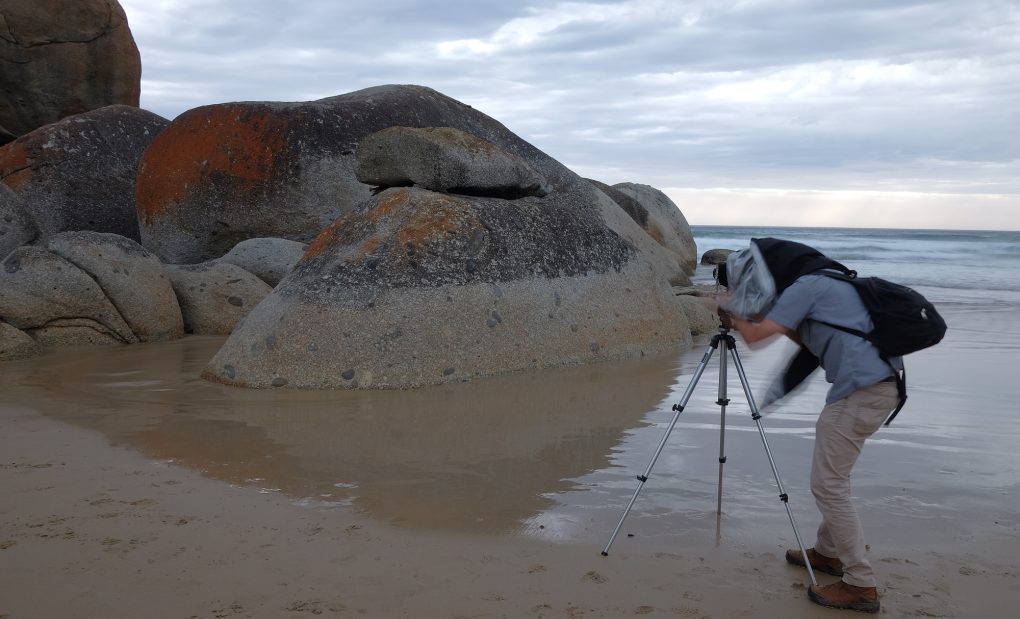 The Friends of Photography Group at Wilsons Promontory by Sunil Patel
On a warm and very windy Friday at the end of March, fifteen Friends of Photography Group made their way to Wilsons Promontory in South East Victoria for an early autumn field trip. The temperature plummeted from 28°c to 15°c the wind grew stronger and the rain came.
People had arrived as early as 7 am on the Friday and continued to arrive throughout the day. Pretty much all of us were staying at Yanakie Caravan Park thirty kilometres outside Wilsons Promontory National Park.  Some of us didn't realise that the simple and comfortable cabins didn't include bedding in the price which led to some scurrying and borrowing of blankets and duvets. Much needed as the weather continued to 'turn'. We met on Friday evening for a glass of wine and easy conversation and planned to meet at 11 am the next day.
Saturday morning the weather forecast was for early showers with strong winds later. We met up at the Tidal River camping ground café for $5 coffees in paper cups and planned our shooting schedule. Most people headed to Tidal River where the wind decided to come early. The weather made for a very challenging environment to take photographs, especially large format. Some of us ventured on to the foot bridge where the wind continued to blow hard and almost took cameras and tripods with focusing clothes doubling as very efficient sails!
Andrew Bradsworth with 4×5 camera dealing with strong wind at Whisky Bay.
Working our way back along the coast, we stopped at Squeaky Beach and then Whisky Bay (or Whisky Bar as some of us hoped to find). The scenery continued to mesmerize and the wind continued to confound pretty much all day.
Saturday after dinner we met up again for a print viewing in cabin number nine courtesy of Brian and Joe (who sadly had to leave early due to some unexpected health issues). We had a viewing of a range of images from silver gelatin, Mordançage, ink jet, lith prints, wet plate collodion etc. We were also given a wonderful summary of the weekend by young Matilda.
Sunday continued to present challenges of weather and rapidly changing light, although this did add to the incredible natural beauty of the place. More photo opportunities were sought on Squeaky Beach through showers, huddling between boulders, sinking in sand and getting wet feet.
After another coffee stop at Tidal River Café and a group photo, people headed home with last glimpses of the mountains, wallabies, wombats, emus and magpies, as the sun shone and the wind finally dropped.
We look forward to seeing people's photographic images at the next print viewing and hopefully in our exhibition in August.
Main photograph above: Ronald Jore with 4×5 camera at Whisky Bay. Photographs of the photographers by David Tatnall.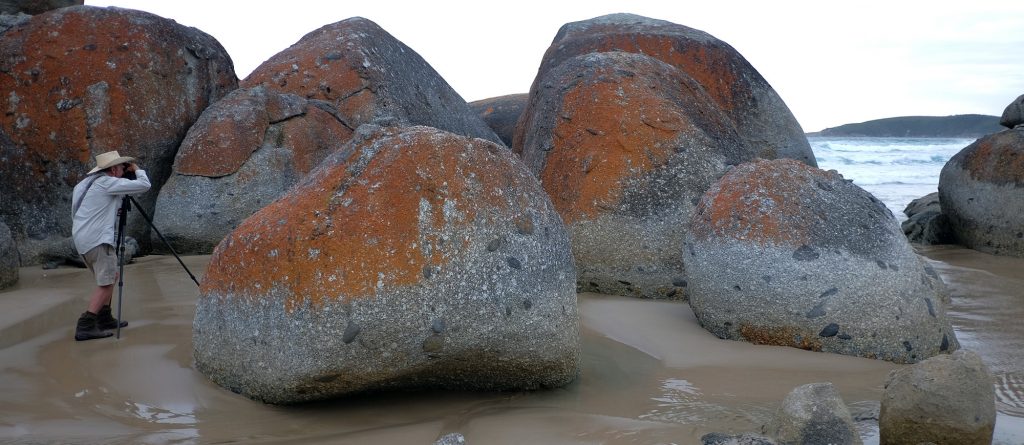 Murray White with 6×7 camera dealing with soft sand at Whisky Bay.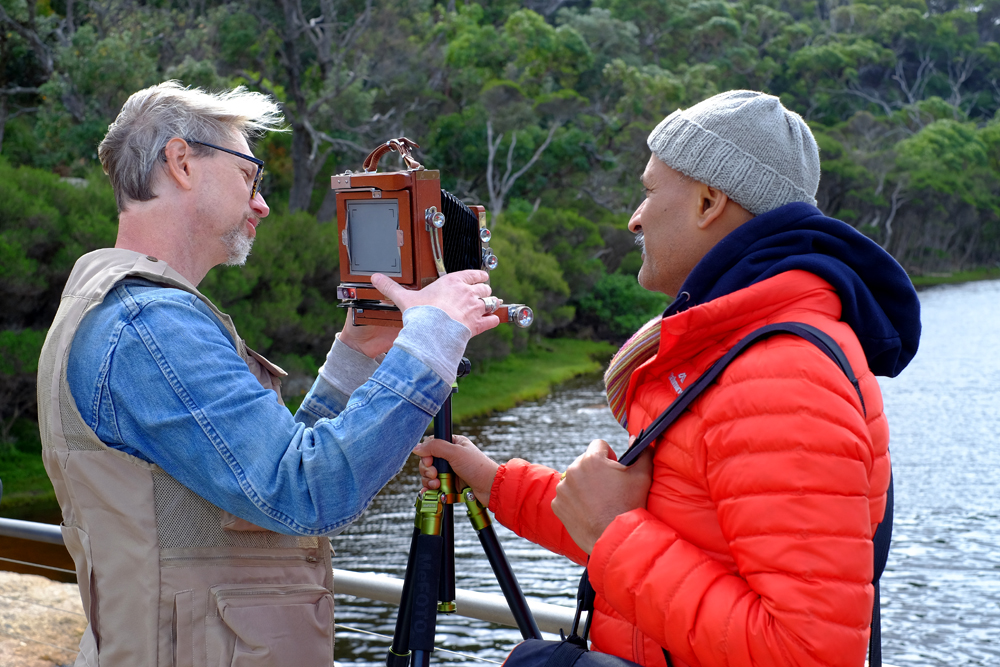 Greg Soltys with 4×5 camera and Sunil Patel acting as counter weight at windy Tidal River.
Peter McDonald, Andrew Bradsworth and Pam Bradsworth discussing pinhole photography at Squeaky Beach.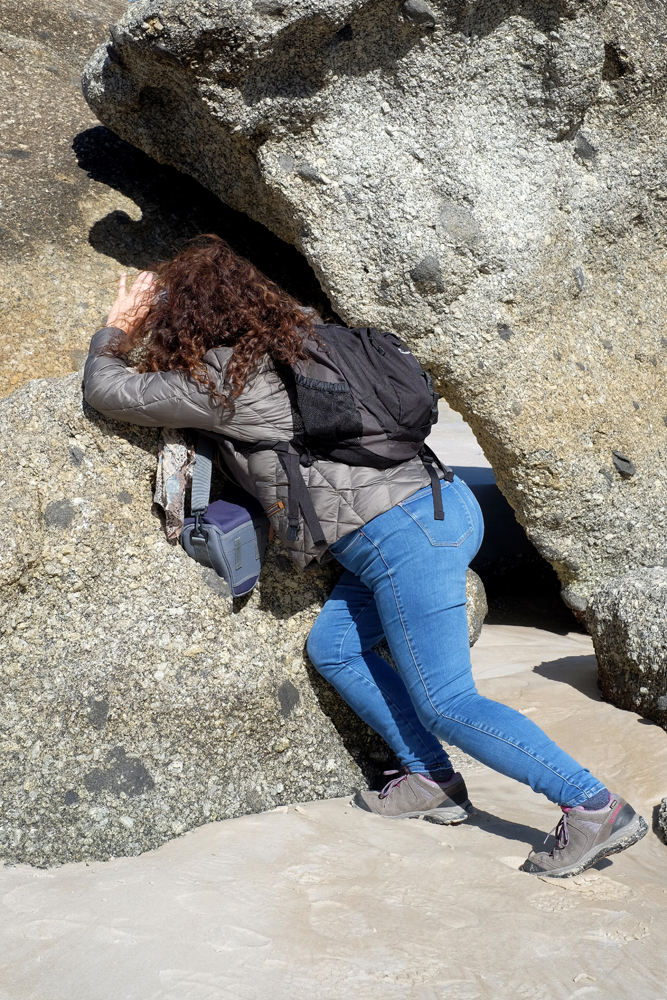 Erin Baillie with 35 mm camera at Squeaky Beach.
Articles about other Friends of Photography Group trips can be seen here.
The Friends of Photography Group was formed five years ago and is open to all who use film cameras. More details on FoPG website.