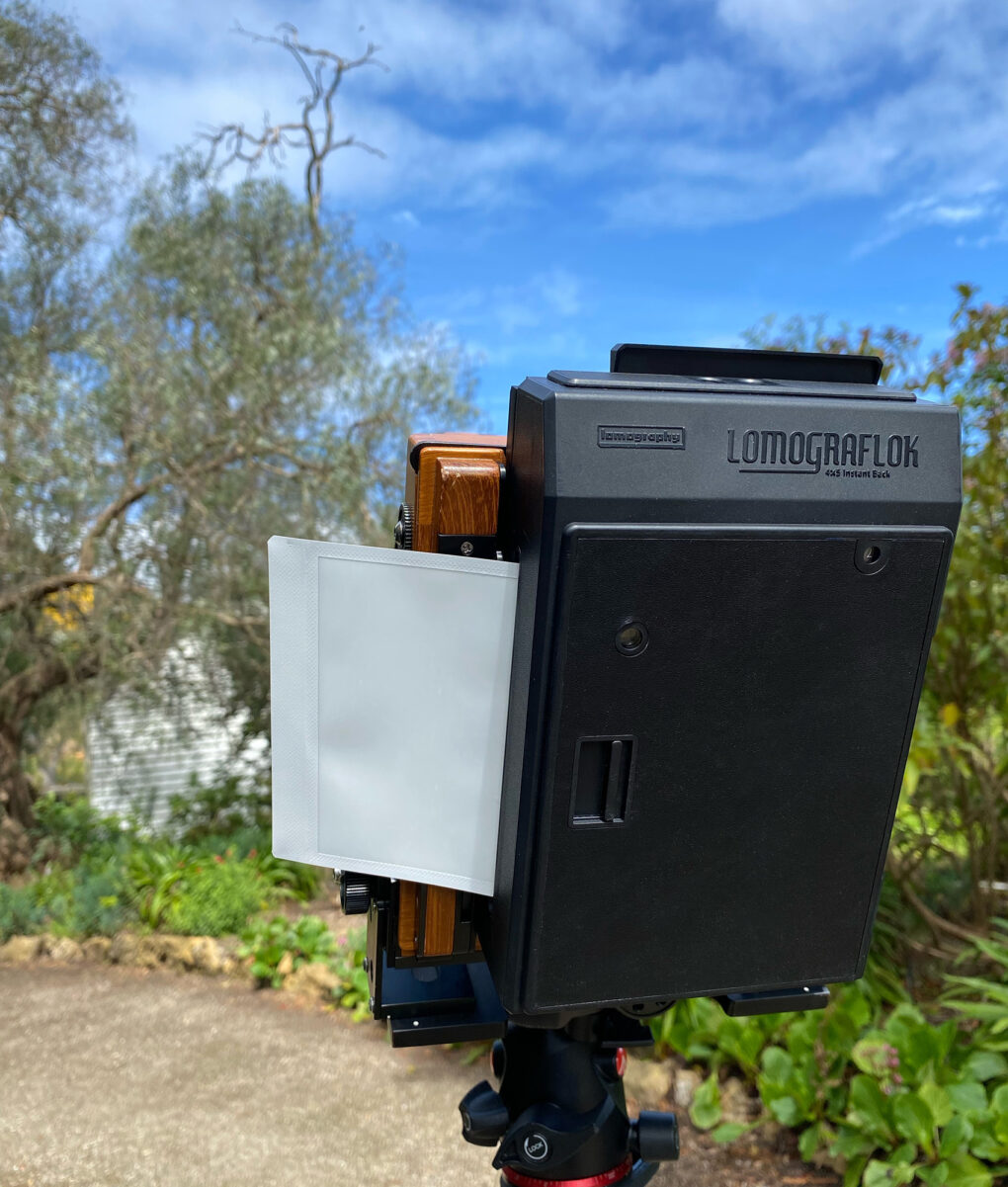 Review: LomoGraflok by Anjella Roessler
Somewhere in the bowels of 2020, Lomography announced that they were bringing out an instax film back to fit on 4×5 cameras with a graflok back. As a photographer who loves anything remotely alternative or unusual, I jumped on the pre-order and patiently waited. There were delays with production, I imagine some people got impatient and cancelled, but late September of this year my long awaited 4×5 instax LomoGraflok back finally arrived.
The LomoGraflok back takes Fuji Instax Wide film. If you're ever used Instax film, likely you've used it in one of the cameras that gives you very limited control and are more frustrating than fun for anything more than snaps. I have several of these for the various instax formats (mini, wide, and square) and I've probably only put one pack of film through each before putting them on a shelf somewhere and forgetting about their existence.
Was the LomoGraflok worth the 12+ month wait?
Short answer… Oh yes!
The (very nicely made) box contains two parts. The first is the focus compensation and composition mask which provides a compositional window and pushes the ground glass back to adjust for the 19mm backward distance of the film plane. Instax wide film is smaller than 4×5 film with the image size being 6.2cm x 9.9cm and the viewer makes it very easy to compose accurately.
The second part is the LomoGraflok 4×5 Instant back. This takes the pack of instax film in a very easy drop-and-load. Four AA batteries are needed to power the unit. There are two buttons on the top edge – one releases the dark slide lock and powers the unit on, the other ejects the film. The unit must be on for this to happen. This works well, as you cannot accidentally remove the dark slide or pop film out with the power off. My one and only even slightly negative point I'd give this back, is that the two buttons are very close together, and I did manage to accidentally eject an unexposed sheet of film, when I meant to lock the darkslide in. I actually did this twice, however, luckily the second time, my film pack was empty. But I'm also the type of person who regularly pushes the on button instead of the timer button on my enlarger and ruins paper, so this may be an Anjella-problem.
The LomoGraflok is, as its name suggests, designed for Graflok backs. Don't buy this hoping it will work in a non-Graflok back unless your back opens extremely wide at the springs. I was all excited to use it in my Anniversary Speed Graphic only to find out there was no way it would fit in the spring back – the back is a lot wider than any film holder. Thankfully my Chamonix has a graflok back.
It's actually very simple in operation. The mask sits behind the groundglass and you focus and compose in the usual manner. This is then removed along with your camera's graflok back, and the LomoGraflok back is inserted in its place. Instax film is rated at ISO 800 which provides good speed (very strange for someone like me who is used to alt processes which are in the range of ISO 6!). The power on button enables the dark slide to be removed and exposure is done as normal. Re-insert the darkslide, and the exposed film is then ejected with the other button and a couple of minutes later you have your image.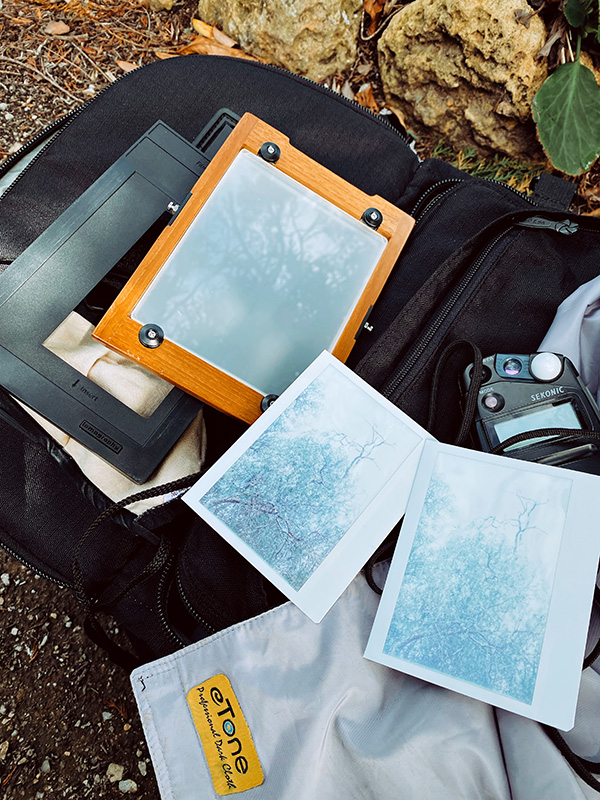 I shot a box of the Instax Mono film and then a box of Instax colour film (10 sheets per box). I was so excited by the whole experience that I then went and ordered another LomoGraflok so that I can have one permanently for colour and one for the monochrome film! The film itself won't be to everyone's taste – but the LomoGraflok makes using it fun, and as someone who embraces imperfection in imagery, I am smitten by the whole process.
One note I do need to make is that this is great for testing ideas and light. However, due to the film plane distance and the compensation in focus, it's not a straight swap in – swap out with a regular film holder. If you wanted to shoot this as a test before using regular film, you would have to recompose and refocus once you had the testing done.
This really is best as its own unique tool and image creation source. And I, for one, love it! I have run three boxes of film through it so far, two outdoors and one in studio and the back just worked exactly as it should. If this is film that calls to you, I would highly recommend the LomoGraflok.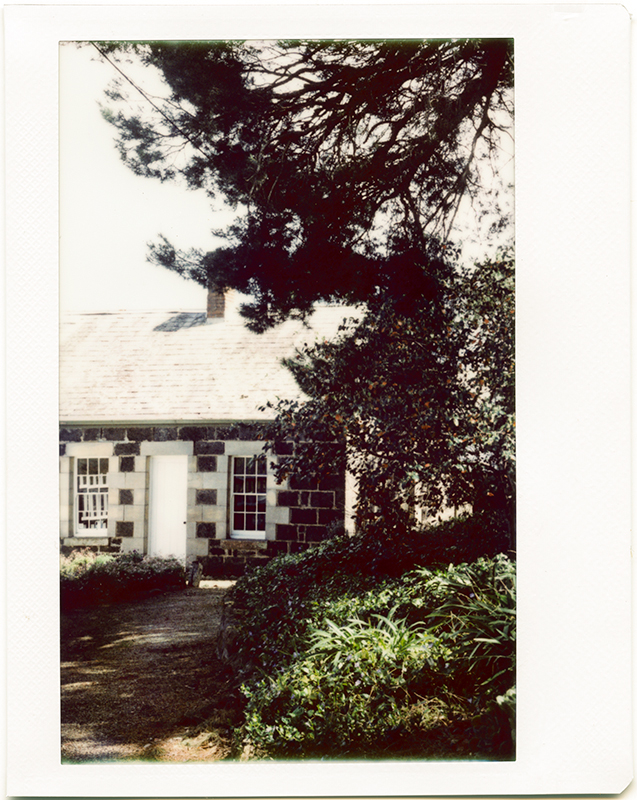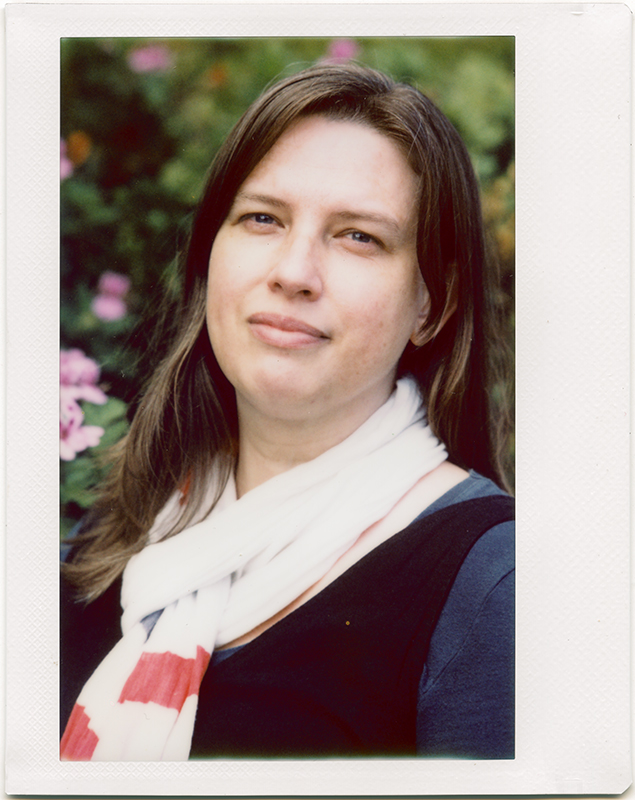 Anjella Roessler is a Geelong artist. She graduated from Deakin University (Creative Art – Photography) with First Class Honours in 2018, and Photography Studies College with an MA (Photography) in 2020. Her photographic practice explores the intersection of trauma and narrative and is informed by historical research. Roessler's work has been shown at Gallery 19 in Massachusetts, at the Astrolight Festival at Scienceworks Museum, and in Noir Gallery in Coburg. She has been a feature artist at the Under the Blue Moon Festival in NSW and her images have been featured in publications such as Fiend, Lucky, The Hand, and Intrepid Magazines.
More of Anjella's photographs can been seen on her website.