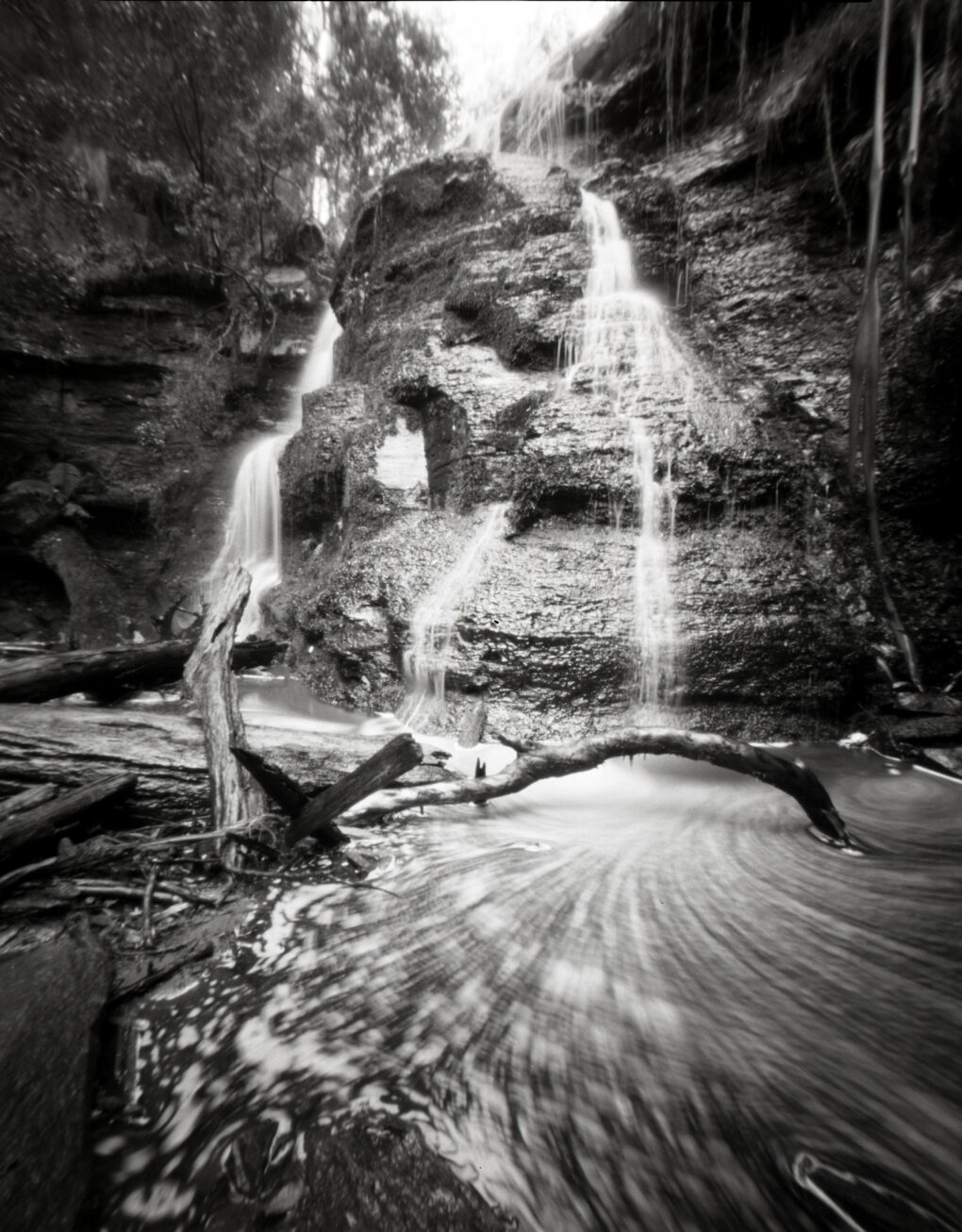 The Photograph Considered number forty four – Wendy Currie
Hendersons Falls. Scan of 4 x 5 pinhole negative.
Article written by Len Currie.
This image was taken on a recent trip to Victoria's Great Otway National Park with a group of film camera enthusiasts. A quite nostalgic trip for Wendy, as the region was the area of her first significant photographic commissions, obtained while she was still a Philip Institute of Technology (PIT) undergraduate in the 1980s. It was also her first venture into larger format photography.
Henderson Falls is a 24 minute exposure on a Zero Image 4 x 5 pinhole camera, Fomapan ISO 400 sheet film & developed in Kodak XTOL. It is yet to be printed, but Wendy intends to produce a platinum/palladium image, one of her current favorite photographic processes.
However, Wendy's original commissions in the Otways were all colour, sepia and black-and-white images, taken on her 35 mm Pentax, a recently acquired second-hand Speed Graphic Quarter Plate, and a 4 x 5 camera borrowed from PIT. Her methods have since changed to pinhole and infrared image captures, printed in a selection from cyanotype, van dyke, gum bichromate, chrysotype and other 'alternative' processes. She is also experimenting with lumen printing and wet cyanotypes. Nevertheless, some ongoing themes persist in her work.
Prominent among these is a fascination with the patterns and reflections found in flowing and still water, as can be seen in one of the images from her original Otways commission shown below, and in her work represented in a number of photographic publications, notably The Spirit Within Australia: The Land and The People, held in the Library of Congress, the Getty Museum and a number of other international and Australian collections.
Her image in The Spirit Within Australia is typical of much of her recent work, both in location (a Grampians wetlands) and in choice of process (chrysotype). As well as being carried to many of the area's creeks, falls and other water features, her large format cameras have spent a lot of time facing the rusting Nineteenth Century machinery at Heatherlie Quarry.
Her move to larger format had been prompted by her studies under Les Walkling, who also suggested her post-graduate study of historic alternative printing processes. However, it was David Tatnall's pinhole photography classes that instigated her most radical "change of focus".
Many pinhole enthusiasts are as much engaged in building their equipment as using it, but Wendy has always been more interested in taking pictures than making cameras. Consequently, she was an early purchaser of Zero Image pinhole cameras, before they were generally available in Australian retail outlets. As she was passing through Hong Kong, she decided to buy cameras directly from the maker there, rather than have them posted to Australia. The maker had no retail premises at the time and she was startled to find herself outside a Hong Kong railway station exchanging a large roll of Hong Kong dollars for a couple of dubious looking brown paper parcels. Luckily no suspicious law enforcement officers descended on her. Very happy with her purchases, she was quick to acquire a 4 x 5 pinhole camera when they were later added to the Zero Image range.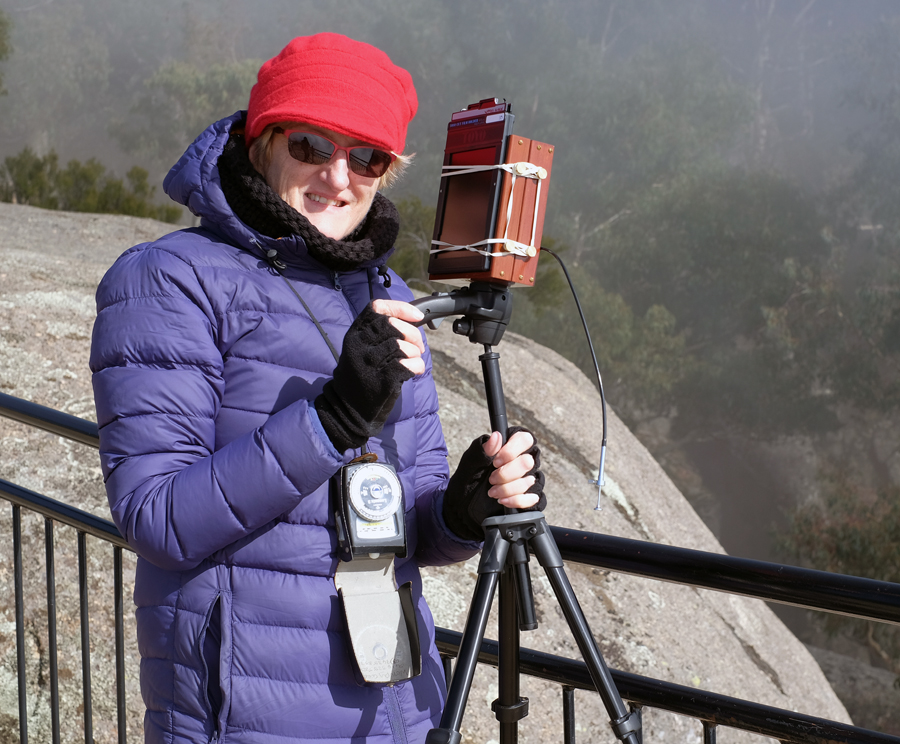 Her photographs have been published in a number of books:
2021 – Chrysotype – A Contemporary guide to photographic printing in gold.
2006 – Blueprint to cyanotypes – Exploring a historical alternative photographic process, Malin Fabbri.
2006 – Alternative Photography: Art and Artists, Edition I.
More of her photographs can been seen on her website.