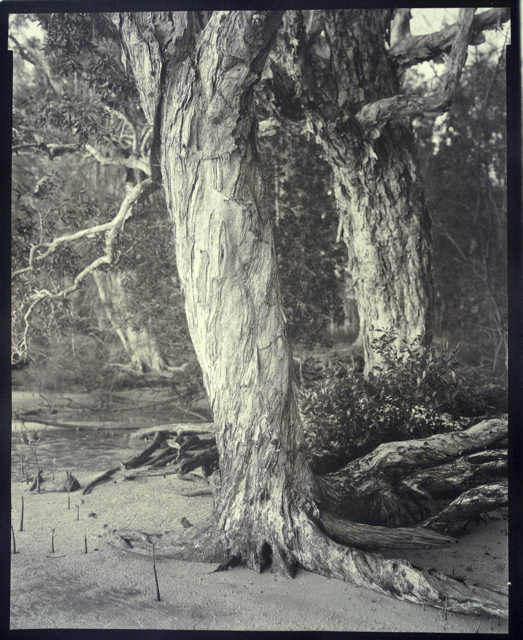 The Photograph Considered number forty three – Gary Chapman
Paper bark. Tin Can Bay. 16 x 20 Vandyke Brown contact print
My interest in Ultra Large Format photography has always been the landscape, when setting up with a such a large view before me I feel more akin to an artist setting up his canvas.
This majestic paper bark situated on the Tin Can Bay foreshore was first explored with smaller format camera 8 x 10, before deciding that the Ultra Large format would do it justice.
The image was exposed about ten minutes before sunrise with the light at 90 degrees which emphasized the texture of the paper bark tree.
Placing the high lights on zone 8 further enhancing the texture of the subject.
Technical information:
16 x 20 view camera with 24 inch lens.
FP4 plus film developed in D76
Exposure 2 1/2 minutes @ f32.
Jan Naismith and Gary Chapman are collaborating artists specialising in historical photographic processes, based on the Sunshine Coast Cooloola Cove Queensland Australia. In 1991 they graduated from the Queensland College of Art.
Over time they have expanded their work through many exhibitions, magazines Galleries and books.
Jan has conducted workshops in Gum Oil and hand painted images at Gold Street Studios in Victoria.
Gary works using ultra large format cameras 16 x 20 and 8 x 10. Jan specialisers in hand painting the image on all mediums.
Gary specialisers in wet plate images the hand-crafted nature of this process ensures that each wet plate is unique, as are Jan's Gum oil images.
Palladium photographs from 8 x 10 negatives are not that common but 16 x 20 negatives are rare, creating the perfect contact print required by historical photographic processes.
Jan and Gary are represented in a book The Spirit Within Australia The Land and the People produced by VeritasEditions.