The Photograph Considered number forty two – Bianca Conwell
Old Man Banksia 2021. Gold toned salt print
In recent years I have been inspired to study and practice historic and alternative photographic processes, and the types of prints I make are made by contact printing so a large format negative is required. I use an 8 x 10 studio camera so that I can use the negative 'as shot' rather than having to digitise my work. Very often (and in this instance) I shoot wet plate collodion negatives for the special clarity and look they provide.
I shot this on my Cambo rail camera with 12" Ilex lens. I initially bought this lens because it has a maximum aperture of f4.5 which is reasonably wide for a lens that covers 8 x 10. I wanted it to shoot wet plate portraits, wet plate collodion is a notoriously slow medium at somewhere under 1 ISO. I have tended to keep using this lens for my still life shoots as well, I'm not much of a gear collector.
The negative in this case is shot on a glass plate, I use wet plate collodion because of the special clarity and definition it gives. It is a virtually grainless emulsion, is sensitive to mainly the blue end of the light spectrum and so has a very specific look, a very different look to many other types of photographs and different to the modern world around us. It is an emulsion I make and pour myself, the emulsion must be poured on the glass plate, sensitised, exposed in camera and hand developed within about 20 minutes, while the emulsion is 'wet'.
I make salt prints from these types of negatives most often. I love the visual qualities of a salt print, the very long tonal scale, the deep chocolate colour and warm dense blacks especially when a gold toner is used. A salt print is made by coating plain cotton paper (I use Bergger COT 320) with firstly a salt solution, and then silver nitrate solution, a contact print is made under ultraviolet light. This is a printing out method, so the image does not need to be 'developed ' but the paper is processed by washing in water, then a dilute salt solution, toned and fixed. It can be a finicky and time consuming process, but the result is truly beautiful.
As both negative and print are hand made I feel a certain intimacy with the images I create, a real labor of love for me.
This print is 8 x 10 as it is a contact print. I have been experimenting however with reproducing these images digitally and making very large prints at 60 x 80 cm. The clarity of the print really holds up at that size in my opinion, I will definitely be producing more work this way in the future.
I use my darkroom for my wet plate work and also if I have been shooting large format film as I tray process. The two printing methods I mostly use are Salt and Chrysotype, neither of which require safe lighting but I do most things here in my darkroom. My enlargers haven't had much work for a while since I have been shooting 8 x 10 mostly for some time.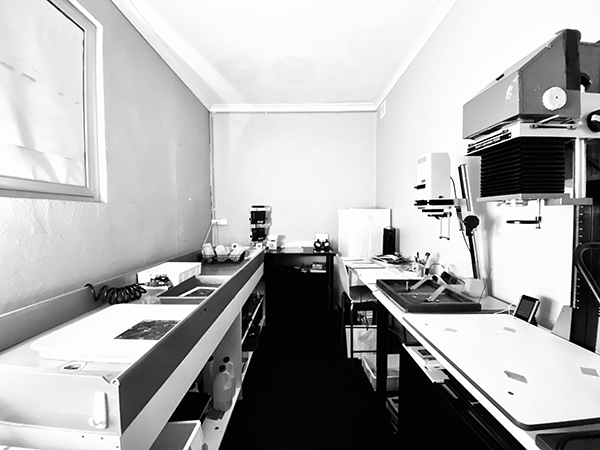 Themes I am attracted to often in my work are time passing, the beauty in decay and weathering, and personal nostalgia. I am always inspired by nature and the landscapes around me. The 'Banksia men' in this image have been fascinating me for some time, I have watched them grow and their faces change. These strange seed pods feature as characters in Indigenous dreaming stories, and also childhood stories that I remember.
This image is one of a trio so far but I hope there will be more to come.
Bianca Conwell is a photographic artist working in historic and alternative processes, she lives in Melbourne and Wye River Victoria.
Bianca has had work recently published in Leanne McPhee's book 'Chrysotype, a contemporary guide to Photographic printing in gold.' http://leannemcphee.com/chrysotypebook
A folio and more information on her work can be seen on her website