The Photograph Considered number four – David Roberts
Brother Luke. Silver gelatin photograph
I was granted the privilege of staying at a Cistercian monastery for three weeks with the expressed intention of photographing the community. I had been intrigued with the possibility of photographing a contemplative group for some long while; those who have chosen to live apart from the world – not as an escape from the world, but rather as a lifestyle with purpose are a rare minority. It wasn't important whether I was personally in accord with their religious beliefs or not.
Photography, for me, is at its best when the camera explores more than the outer or visual surface of things. While the monks were visually interesting (they still wear robes styled from the 12th century) I hoped to photograph, as Minor White put it, "what else it is".
The task of the portrait photographer is, in my opinion, to create a space where the sitter is enabled to safely share something with the camera. That 'something' may be merely their appearance, but that seems rather shallow and boring. Who we are is broader and deeper than merely what we look like. If there is magic in photography, it is the capacity to see more than the eyes see. It's been said that 'how' the photographer sees is more important than 'what' the photographer sees.
I used view cameras for the project. The main tool was an old Linhof Tech III 5 x 7. Other formats included 11 x 14, 8 x 20 and 20 x 24. I primarily used an old (1907 vintage) Voightlander 14 1/2 Heliar lens. Often the out of focus areas of a photograph are larger than the selected focus points and this lens creates a great out of focus bokeh. The standard technical reasons for large format; tonality, resolution and detail informed the choice of cameras. As always, however, there is more to the picture.
These guys aren't in a hurry for much or often. The rhythm of their individual and collective lives is rooted in routine and schedules: day after day, weeks followed by months, years and decades. Using view cameras slowed things down and allowed, not only a more accustomed pace, but an opportunity for thoughtful or mindful participation. What they would share with the camera would be an honest portrayal of what was intentional, important and real to them.
The photographer literally gets out of the way with a view camera. What remains is the sitter – alone with the camera. If the photographer has done his/her work right, the sitter feels free to just be. The technical side of lighting and composition are peripheral at that point.
The National Library of Australia in Canberra purchased this collection of photographs.
This photograph of Brother Luke is included in a remarkable book of tipped in photographs called 'The Spirit of Australia: The Land and the People'. This bespoke book, holds original works from 17 Australian photographers and has been purchased for the collections of the State Libraries of Victoria and NSW among others.
An exhibition of photographs from this book is currently on at PhotoAccess, Canberra until 29 April 2018 and then at Gold Street Studios Workshop & Gallery, Trentham East, Victoria 25 October 2018 – 20 January 2019.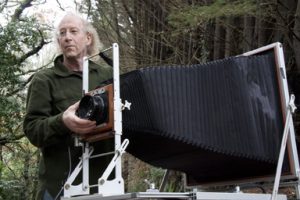 David Roberts was born in the United States. He has earned a BA in Philosophy and an MA in Theology. He emigrated to Canada in 1986 and then to Australia in 2000. Ten years were spent living in a remote region of northern Canada doing linguistic work with a North American Native Group. His adventures include spending 9 weeks north of the Arctic Circle on a solo expedition in wilderness and making a photographic journey down the Yarra River in a canoe for a month.
Since 2000 he has been exploring Australia and its people through the lenses of his cameras. David photographs things for what they are and for what else they may be – always attempting to find a deeper expression and meaning through photography.
His work is held in public institutions in Australia including the National Portrait Gallery, the National Library of Australia and the State Library of Victoria among others.
Artist statement
Making photographs is, for me, a passion and a way of exploring my world. View cameras, particularly very large ones, provide the technical underpinnings that support the meditative approach these cameras both encourage and demand.
Camerawork invokes the trinity of camera, subject and photographer. In moments of extreme grace these three elements converge and flow into one thing. Then, in suspended time, a vision can be realised that sees beyond the surface and connects to something greater – even deeper. This is the time when exploration becomes discovery and passion transubstantiates into a photograph.