Day walking 4×5 camera gear in the field by Alex Bond
When it comes to day walking 4×5 camera gear in the field you want a camera bag that is comfortable and suited to your purpose.
In March 2021 I purchased a Lowe Pro Flipside 500 AWII for day walking 4×5 camera gear. In this article, I will describe what features I look for in a 4×5 field camera bag.
Day walking, day packing, or backpacking?
Choosing the best camera bag for hiking your 4×5 camera on location will depend on your trip duration. For day walks or day packing, you need only your 4×5 camera kit plus room for water, snacks, and personal gear. On the other hand, backpacking with your camera over several days requires much more. For example, if you are out over several nights you need a tent, food and sleeping bags.
So what is a good camera bag to carry your 4×5 gear in the field for day walks or day packing? Here are some tips for what I am looking for.
Good harness design for comfort
For day walking 4×5 camera gear, you need to remain comfortable for the whole day. Your day- packing camera bag should have a proper back harness. This harness acts as a framework, providing support between the shoulders and the hips. It could be made of metal or reinforced sewn padding, giving additional strength to the bag's back. At the top of the harness should be well-padded adjustable shoulder straps. The bottom of the harness should include a waistband with padded hip supports. This helps distribute the weight off your shoulders onto your hips. That's important to prevent sore shoulders at the end of a long day.
Avoid camera bags that are floppy and have no back support built into them. With flimsy camera bags, hard-edged items will stick into your back and the poor weight distribution will increase your fatigue.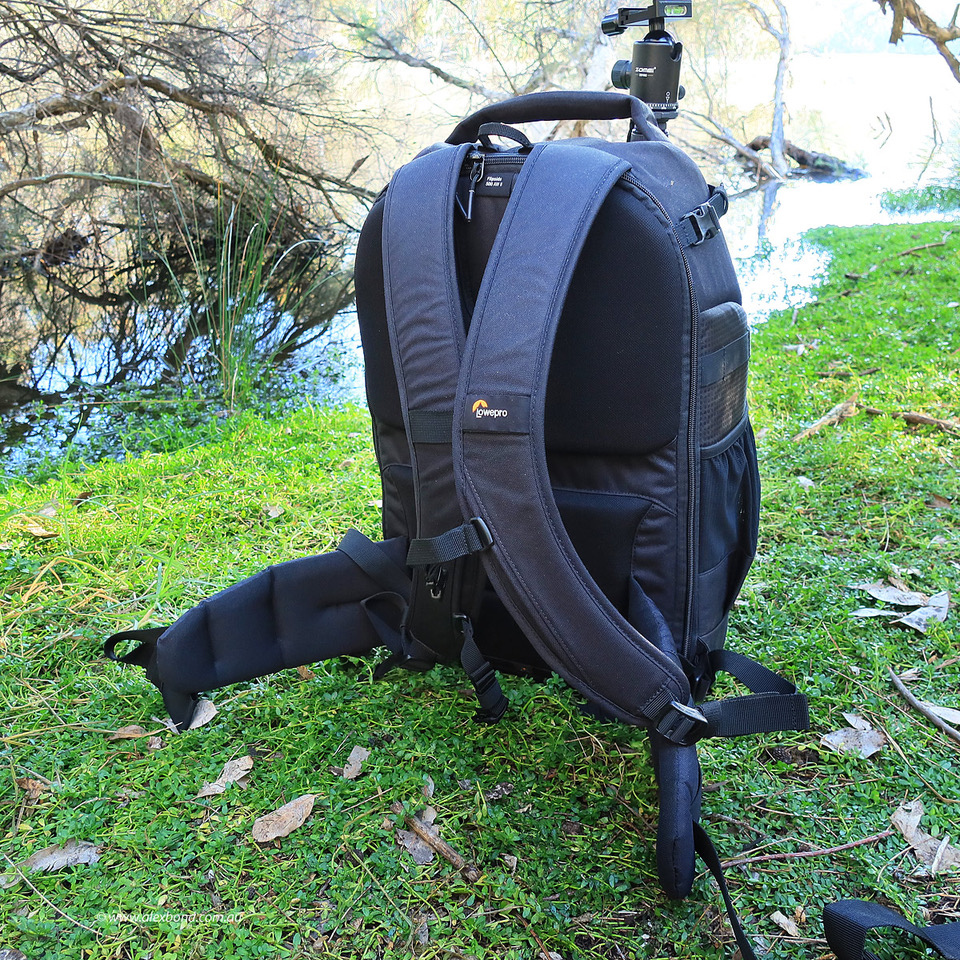 Protecting your 4×5 camera gear – rain, salt and sand
Apart from comfort, a good day walking 4×5 camera gear bag should also provide protection from the elements and physical damage. The inside of the bag needs to have foam padded pockets to insert gear into. This prevents gear from contacting other equipment and causing scratches or abrasions through movement.
Out on location, you have the added risks of wind-blown sand, salt, and rain. Make sure the bag you choose has quality zips. While wind-blown sand will find its way into anywhere, zips offer more protection than bags with flaps and buckles. Zipped closures also provide better protection against salt spray as well.
A rain shell for your camera bag is indispensable. Continuous rain will find its way through zips even in the best bags. I have walked all day through the rain, only to find water had penetrated my camera bag and seeped into my film holders! Although my bag was the best I could get at the time, I did not have a rain shell for it.
Rain shells fit over the exterior of your camera bag or backpack and are held in place by elastic edging. They are extremely lightweight and offer an additional protective rain barrier. The Lowe ro Flipside 500 AWII has a built-in rain shell which is located in a small pocket at the base of the pack.
Ease of Camera Access – Lowe Pro Flipside Series
My old alpine backpack which I use on extended walks  has one opening at the top for access. These top-loading bags have a relatively narrow opening. The Lowe Pro Flipside Series open from the back, revealing the contents of the bag's entire length. This provides a much larger area than top-loading for gear access. Also, this broad access makes it fast to locate and identify equipment.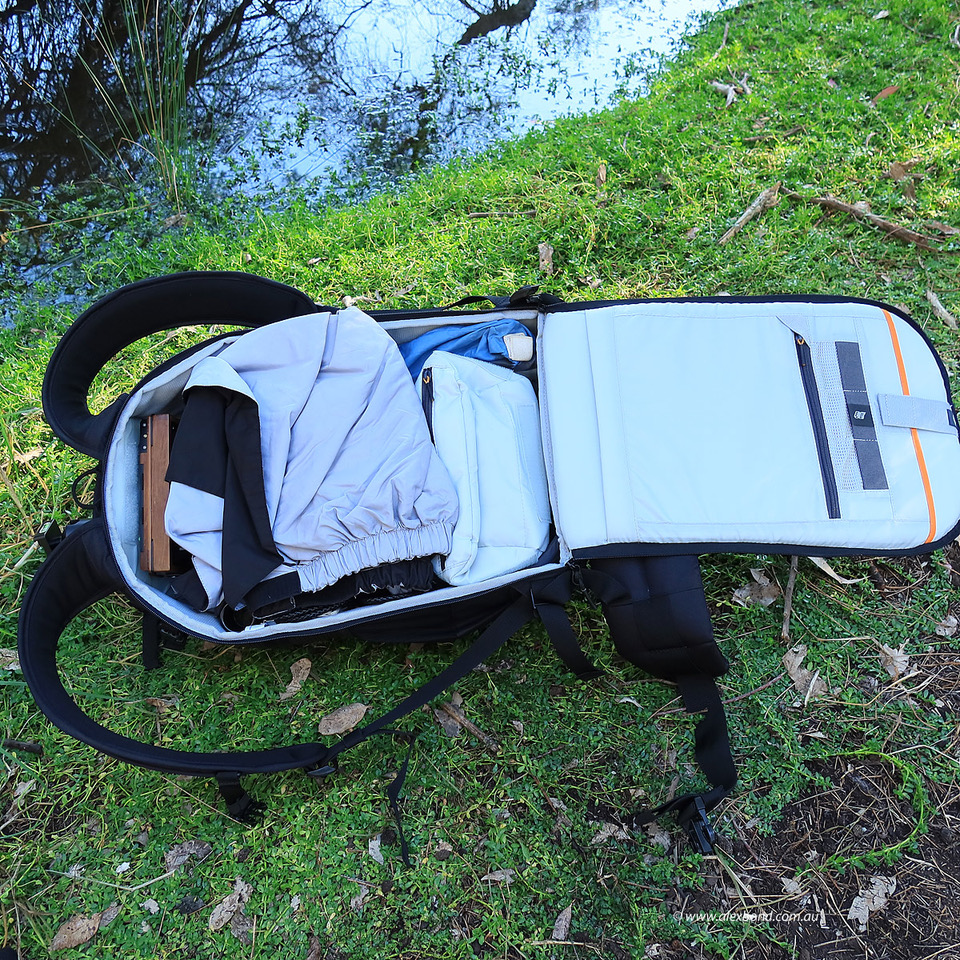 To maximise bag space I like to sit my 4×5 field camera on its side in my bag. This means that the depth of the bag must be at least as wide as the camera. This is the first Lowe Pro bag in which I can transport my camera in this position without it digging into my back.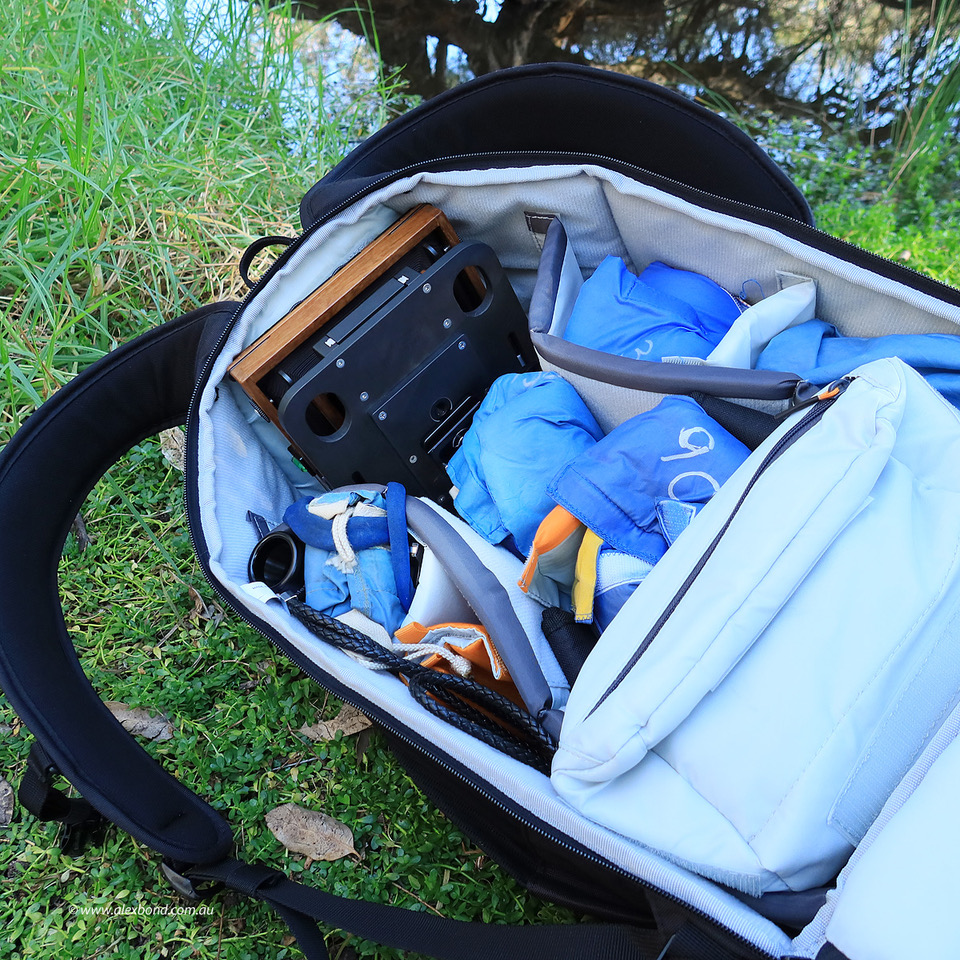 How much 4×5 camera gear to carry
How much 4×5 gear you carry is really up to you. For me, I will alter my camera gear list according to my subject needs. Apart from the 4×5 field camera body, I carry three lenses, light meter, 6 film backs for 12 exposures, 45-degree reflex viewer, a dark cloth, a focusing magnifier, filters and small accessories, such a light meter battery. The Flipside 500's relatively large internal dimensions gives me just enough room.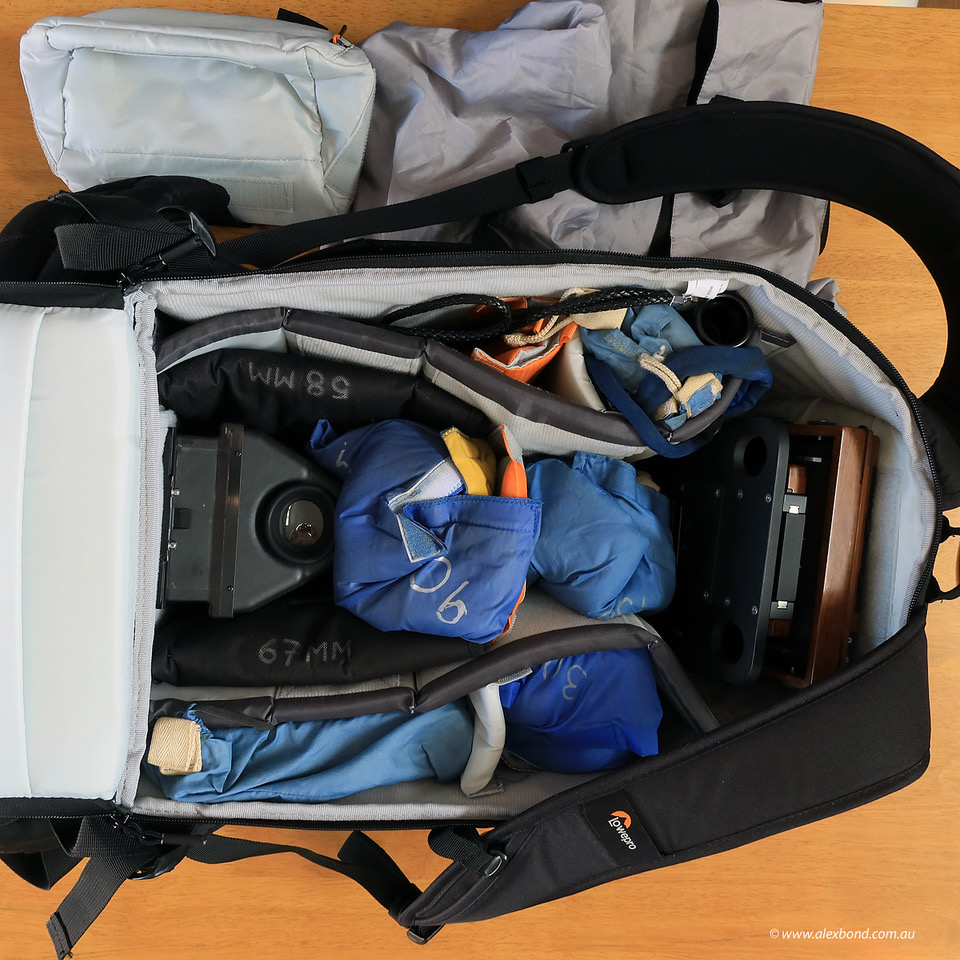 Water, snacks, navigation, and emergency gear.
In addition to camera gear, you will want room to take water, snacks, navigation, and emergency gear. By mounting the tripod centrally on the pack, the two side pockets are left free. These can easily take a water bottle.
Side straps on the bag can hold a folded rain jacket. There is sufficient room inside the main compartment for navigation aids and emergency gear such as a small first aid kit and personal location beacon. Although there are additional zippered pockets in Lowe Pro bags, I seldom use them, unless the item is very thin, ie maps.
I purchased my Lowe Pro Flipside 500 from a Perth camera store in March 2021, and have no association with Lowe Pro or their retailers.