Time and Tide by Christine Scott-Young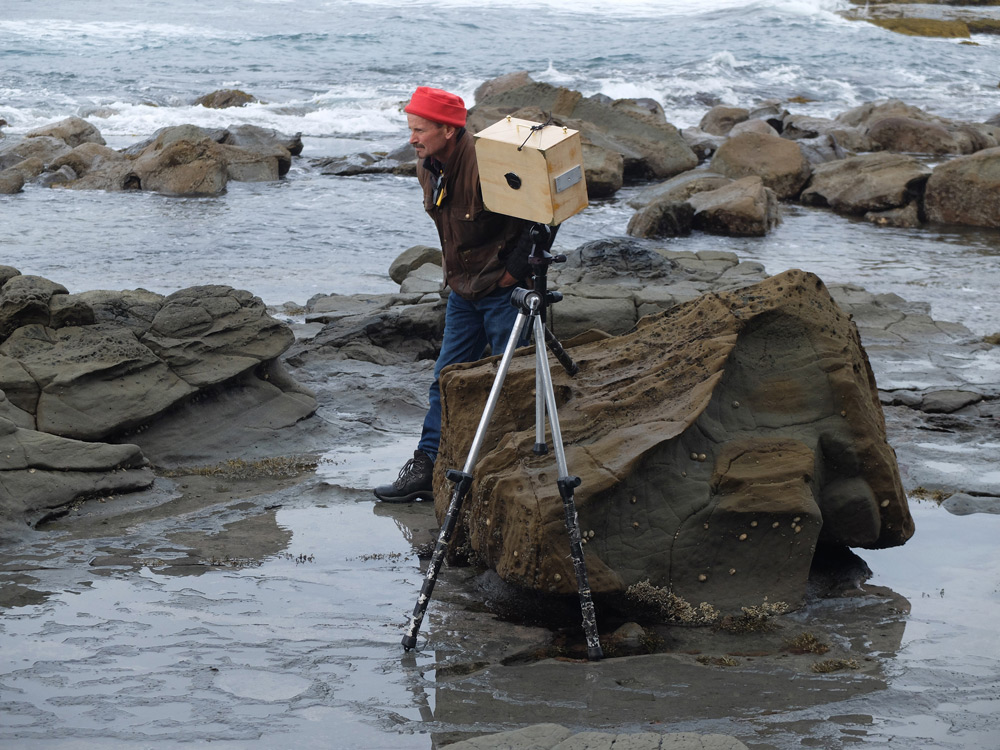 A report of the 'Pinhole photography weekend' led by David Tatnall, 22-24 May 2015
Full disclosure: before this workshop, I was a complete pinhole photography newbie! Sure, I knew the basic idea and had seen haunting examples, but I had never actually undertaken the process of it myself. So when I heard about David Tatnall's workshop in Cape Paterson, I jumped at the chance for a weekend of total immersion in this technique.
After establishing base on Friday afternoon/evening, our group of eight photographers gathered at the local pub for dinner. As the meal progressed, so did my ideas about pinhole photography. David eloquently talked about pinhole cameras, describing their ability to record not just a frozen moment, but rather the passing of time, making motion visible in a single image. They are capable of capturing the trace of human movement, yet conversely allow human presence in the frame to disappear entirely, or render it as a mysterious shadow on the landscape. Thanks to his insights, by the time our table was cleared, it was apparent that making a pinhole photograph required an entirely different thought process from photography as I knew it… and this would be put into practice the next day.
Waking early on Saturday to make the most of the morning light and the low tide, the group spread out over the rocks of Eagles Nest. In geographical terms, the location for the weekend was the string of beaches between Cape Paterson and Inverloch along the Bunurong Coast, south-east of Melbourne. But this is almost too dry a description. At low tide, these spots are other worldly – lost planets of strange rock formations teeming with alien plant and animal life. It was here that we unleashed our various pinhole cameras. Everyone had something different, from self-made wooden boxes to modern-as-tomorrow injection moulded ABS to a regular camera body with a modified lens cap or lensboard. Stepping from one rock to the next, peering into the tiny worlds of rockpools, against craggy cliffs and crashing waves, we set to our task of engaging this landscape with our pinholes under the gentle guidance of David.
Eventually, with high tide in and the autumn light fading fast, we packed away our cameras for the day and met for a late afternoon show-and-tell of prints we had brought along. Going around our circle of chairs, we presented our work, explaining processes and philosophies, answering questions, listening to constructive feedback and generating plenty of discussion about the art of photography. Sitting there amidst the swirling conversation, it struck me that this sense of camaraderie, of a group sharing its wealth of information and experience, is a key part of what makes an intensive weekend workshop like this so worthwhile.
After another early morning of photography, and a late Sunday brunch with the group, it was all over. On the drive home, my mind pondered the activities of the past few days. And I couldn't help but reflect that, while time and tide may well wait for no-one, the passages of both had been deeply contemplated, discussed and photographed over the course of this weekend.