Book Review: Ancient Trees: Portrait of Time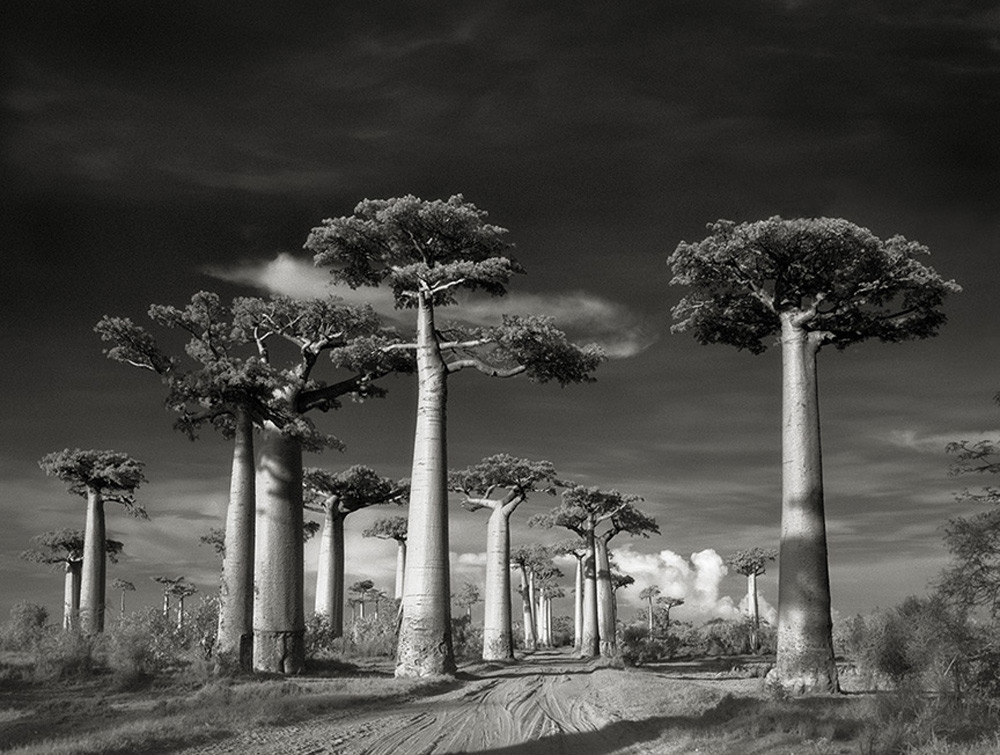 "I cannot imagine a better way to commemorate the lives of the world's most dramatic trees, many which are in danger of destruction, than by exhibiting their portraits." – Beth Moon
The remarkable photographs in this book show the results of a fourteen-year quest to photograph old and ancient trees that has taken Beth Moon across the United States, Europe, Asia, the Middle East and Africa. The resulting book is an extraordinarily beautiful and mesmerising production. Beth Moon began this project while living in England where she found many old trees. One, the Bowthorpe Oak, one of the greatest British oaks was photographed with its full crown of leafy green foliage. Six months later a violent storm tore a major limb to the ground, causing other branches to collapse.
Elsewhere Moon found ancient trees in a state of neglect, or destined for the logger's chainsaw. Soon Moon's quest to photograph theses trees took on a sense of purpose and urgency. In true landscape photographer fashion Moon often camped under the trees she was photographing to get the last of the evening light and the first rays of morning sun. She describes sleeping in the frankincense forest on Socotra as being unlike any other experience. The majority of the photographs in this book have been made using a 6 x 7 cm medium format camera. The negatives then scanned and large format digital negatives made from which platinum/palladium prints produced.
The resulting prints are truly breathtaking. There are sixty photographs in this book, each beautifully composed and all are a delight to see. Moon has written an introduction and caption to each photograph. There are essays by Todd Forrest from the New York Botanical Garden and poet and photography critic Steven Brown. Interestingly there is one Australian tree in the book, a Moreton Bay Fig, grown from a seed planted in 1876 in Santa Barbara, California.
Hopefully Moon will one day visit Australia to photograph the tallest of all flowering plants, the Mountain Ash Eucalyptus regans; the tallest of which was measured at 132.6 meters (435 feet) and grew in the Watts River region of Victoria. However she'll have to be fast, the intensive loss-making logging industry is fast wiping out old growth forests and wild fires made more intensive by climate change may see the end of these forests before too long. Ancient Trees: Portrait of Time is a wonderful book, extremely high quality printing, an inspirational selection of photographs, a must of all photographers' bookshelves.
"The disappearance of old-growth forests may be one of the most serious environmental issues today. It is time to embrace a larger view of nature as a network of interwoven relationships" – Beth Moon
David Tatnall
www.davidtatnall.com
Beth Moon Bio
Born in Novota, California, Beth has gained international recognition for her large scale, richly toned platinum photographs. Since 1999 her work has appeared in over 50 one-person and group exhibitions in the United States, Italy, England, Israel, Dubai, Brazil and France, as well as receiving critical acclaim in major fine art publications. She studied fine art at the University of Wisconsin before moving to England where she experimented with alternative processes and learned to print with platinum. She currently lives with her family in the San Francisco Bay Area.
The platinum print is an important part of her process as she states here, "With platinum printing, a process born of art and science noted for its beautiful luminosity and wide tonal scale, the absence of a binder layer allows very fine crystals of platinum to be embedded into the paper giving it a 3 dimensional appearance.  Unrivaled by any other printing process, platinum like gold, is a stable metal.  A print can last for thousands of years, emulating the age of the trees that I was photographing."
Beth Moon link…