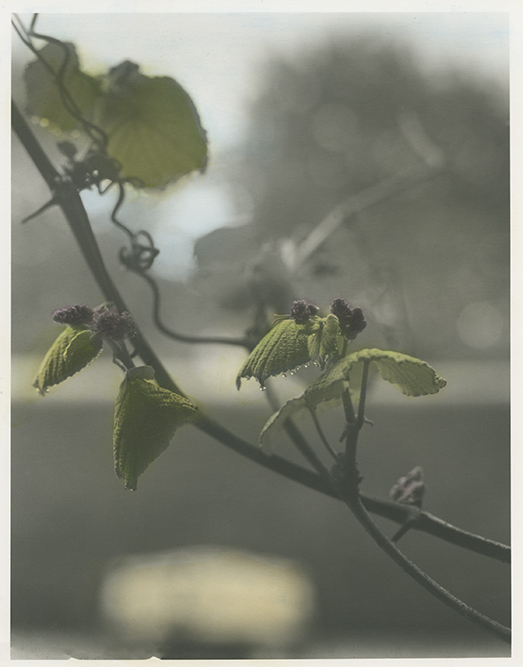 The Photograph Considered number twenty four – Lynette Zeeng
Raindrops on the Vine Leaf. Hand coloured silver gelatin print
Although coming from a commercial photography background I now lecture full time at Swinburne University. We do not have darkrooms and only teach digital output. So whenever I get a chance to revert to film I invariably use one of my large format cameras to produce my images, either opting for my 8 x 10 or one of my 4 x 5 cameras. The choice is determined by whether I am shooting in the studio or on location, the weather conditions and the actual subject. My film of choice for black & white is FP4+ because of its fine grain and I process in ID11.
I am also part of a group called The View Camera Gathering, which is devoted to people using large format cameras. Each year we gather at Gold Street Studios in Tretham, Victoria for a weekend of photography. There are always a variety of large format cameras on display from 4 x 5 to anything up to 20 x 24. The point of the weekend is to discuss large format photography with other enthusiasts and create an image using a large format camera.
We have maps of the area with marked places of interest. There are numerous wooden building, tractors, farm animals and shops. However my preferred subject matter has always been detail in gardens or close up flora. My commercial work mainly focused on gardens and cookery images.
Chris Reid from Blanco Negro is on hand to process the negatives taken over the weekend. The film supplied is usually Foma or Bergger and Chris develops it usually in ID11. The weekend culminates with a showing of the images taken by all the participants.
This particular year it had been raining so I used my Cambo 4 x 5 with a 150mm lens as it was lightweight and easily moved out of the weather if need be. Unlike a majority of large format enthusiasts, I tend to prefer less depth of field in my images and try to select a particular part of the image that will draw attention. This shallow depth of field lends itself more to my chosen subject matter and techniques I use for my photographic art practice.
It was at the 2016 View Camera Gathering that I took the Vine image. This one particular vine leaf captured the remaining raindrops and the grey sky had just enough light to create a backdrop for the drops to glisten. I had to work fairly quickly as I knew that the droplets would disappear in an instant once the sun came out fully.
The print was done on Foma warm tone paper so that the blacks became more subtle. This helped to soften the overall appeal of the image putting the emphasis on the droplets. This printing style also lends itself to hand colouring, which I do a lot of, to complete the photograph.
I like to use traditional hand colouring using oil paints on my images. The colouring is not usually considered when taking the image but months later. Although the image can stand alone as a black & white I like to create something that can be finite. By hand colouring, each print can be individualised with the subtle addition of the colour.  I am not confined by the actual colours within the original image and can create an image using my personal colour palette. In this instance the buds were not purple and the leaves were not yet green.
Over the years the vine has grown considerably and I intend to revisit it at the next View Camera Gathering not to replicate this image but to find another inspiring image from nature.
Dr Lynette Zeeng with 8×10 camera
Lynette Zeeng recently completed her PHD at Melbourne University titled "The Instant Image: A critical and creative exploration of the one-off photographic image" Her thesis included producing a variety of images using many historical processes including Daguerreotypes, Tintype, Chrysotype and Cynaotype. Many of these processes are now called 'Alternative'. Lynette is well known for her hand colouring and has recently finished a large commission using her skills in this area. Her work has been published both nationally and internationally. She exhibits her work regularly and her work is held in many private collections including some images at the Latrobe library.