Presentation: David Tatnall – On photography
Michaels. Level two. Corner Elizabeth & Lonsdale Streets. Melbourne. Thursday 28 February, 6 – 7 pm. This is a free event.
'David Tatnall is a landscape photographer who not only captures a photograph of a landscape, he immerses you in the landscape. David manages to capture in the image, the environment that you feel part of.
Many of his photographs instantly take me back into the forest. In my mind I can feel myself walking through the environment, the forest smells immediately come to me. It is a rare thing to be transported so vividly simply by viewing the photograph.' Danielle Edwards.
David Tatnall's 4×5 camera. Alpine National Park. Victoria
David Tatnall is an Australian fine art photographer and is renowned for his luminous images of the Australian landscape. A number of his photographs have achieved iconic status as emblems of successful Australian nature conservation campaigns.
Tatnall first became aware of conservation issues through bushwalking, and is committed to the protection of nature through the creation of national parks. He identifies the destruction of Lake Pedder in the 1970's as the catalyst for his involvement in conservation and photography. 
Largely self-taught, Tatnall turned to fine art photography in 1975. He has exhibited widely and his work is represented in many public collections including the National Gallery of Victoria, the State Library of Victoria, Monash Gallery of Art, the Australian Embassy Washington USA and the Australia Consul-General Ho Chi Minh City, Vietnam.
He is an authority on large format photography, as well as low-tech (pinhole) photography, exhibiting in both formats.
He conducts regular workshops, and acts as Artist in Residence at a number of school campuses where he passionately passes on his knowledge of photography and conservation. He is the editor of View Camera Australia and facilitator of the Friends of Photography Group.
He has been awarded a Life Time Contribution Award by Parks Victoria, and an Honorary Life Membership of the Victorian National Parks Association, for his lasting influence on nature conservation in Victoria through photography.
More of David Tatnall's photographs can been seen on his website. Photographs of the battle to save Melbourne's Royal Park can be seen here.
Main photograph: David Tatnall with 4×5 camera. Erith Island, Tasmania. Photograph by Dr Jane Mullett.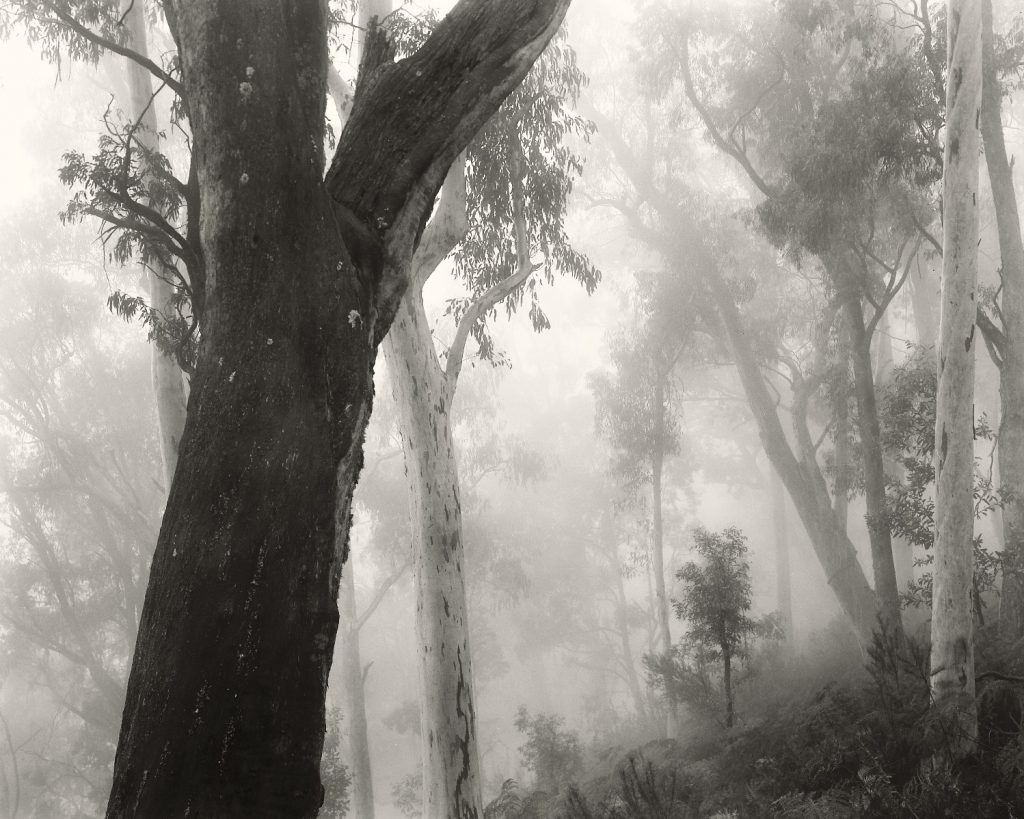 Forest on Buffalo Plateau. 40 x 50 cm silver gelatin print. David Tatnall.