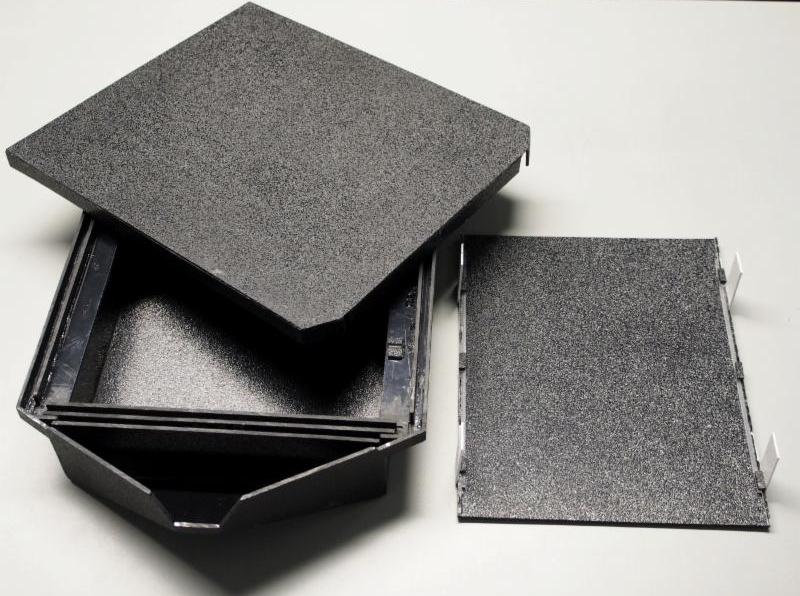 SP-8×10+: A daylight 8×10 sheet film developing tank
Timothy Gilbert of Stearman Press who produced the very successful SP-445 4×5 compact daylight developing tank has launched a Kickstarter for an 8×10 version the SP-8×10+.
Here are Timothy Gilbert's specifications of the proposed new system:
Design Goals:
Process any sheet film, 8×10 and smaller: 1 – 8×10;  2 – 5×7 or 4 – 4×5 or equivalent.
Max of 1 litre of chemistry
Daylight safe (obviously, you'll have load in it the dark)
Fast to fill/drain (prototypes fill in around 10 seconds.)
Easy to use.
The Tray:
The current prototype is about 275mm x 380mm x 60mm.
The unit fills/drains through three light baffles on the one end. Current times around 10 seconds for 1 litre.
Film Pallets:
The current design for the pallet is close relative of existing film holders for the camera.  We're planning on separate pallets for the different sizes 5×7 or 8×10.
We're also planning a DIY kit as a post-Kickstarter option. This would include a blank pallet and an assortment of film guides. You'd just glue the guides down in whatever configuration you needed. It would probably include guides for glass plates as well.'
A video showing the SP-8×10+ can be see on Kickstarter.
Project update 20 December 2018.