Exhibition: In Anna's garden
'This exhibition aims to provide a glimpse into the rich community in Australia that exists around the cyanotype process. In Anna's Garden provides an opportunity for cyanotypists to come together and share their work, and to educate the broader community about this historical process that has captured the blue hearts of contemporary artists.
This exhibition has been developed by artists Doug Spowart + Vicky Cooper with support from MGA and will be on display in THE ATRIUM: Community Exhibition Space at Monash Gallery of Art from 11 September – 21 October 2018.'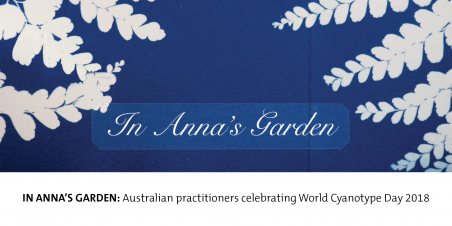 'Invented by British polymath Sir John Herschel in 1842, the cyanotype process contributed to two major moments in photography, the publication of the first photographically illustrated book (in essence, the first photobook) Anna Atkins's British Algae: Cyanotype Impressions (1843-1853) and also its commercial application as a quick and simple copying process, the blueprint, which was in common useage for much of the 20th century. Since the 1960s artists around the world have been exploring the cyanotype as part of renewed interest in alternative photographic processes.'
World Cyanotype Day has been acknowledged since 2015 as an annual celebration of the cyanotype process. The 2018 event falls on 29 September and sees "photographers and artists worldwide gathering in backyards, parking lots, galleries and parks to connect, create and celebrate this antiquarian photographic process."
Main photograph: Cyanotype by Andrew Seward NGV collection.