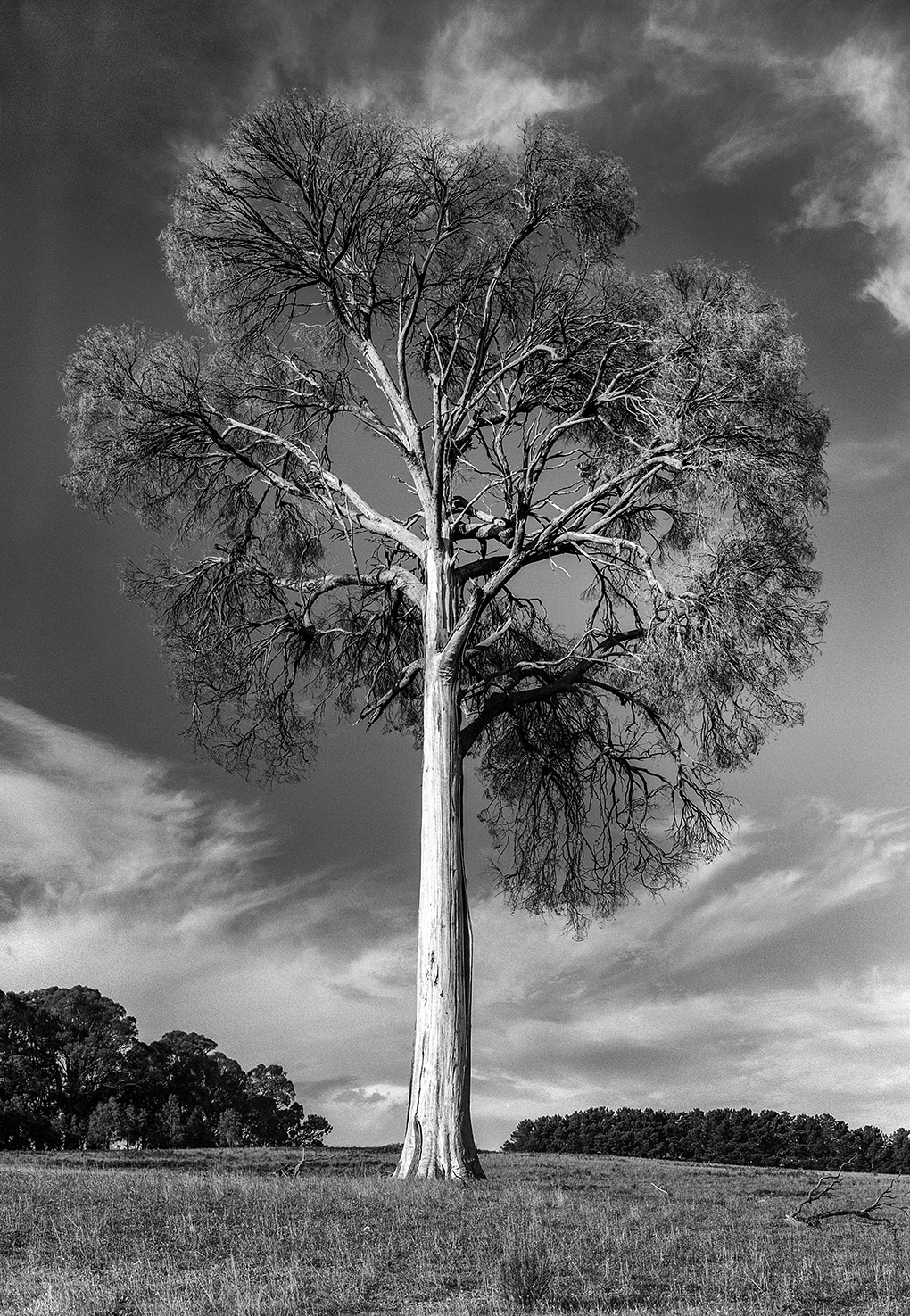 The Photograph Considered number nine – Tony Egan
Black Mountain Tree. Silver gelatin print.
This is a photograph of what I call the Black Mountain Tree. Anyone who has been to a workshop with Bob Kersey at Black Mountain, near Oberon NSW, would be familiar with this tree. It is at the front of a property on the road between Bob and Mary's place and Oberon. I had driven past it a few times and always told myself one day I should make a photo of this striking tree.
Heading home after a workshop late in the day in March 2007 I stopped and took this shot with a 5 x 7 Shen Hao view camera and a G-Claron 210mm lens. I imagined a formal and somewhat heroic shot of the tree so I raised the front standard to achieve some perspective correction and positioned the trunk between the two clumps of trees in the background. I used a yellow filter to contrast clouds and sky. The cows were very cooperative that day and remained nonchalantly chewing behind me.

Tony Egan's darkroom
I used HP5+ film and tray developed in HC110. It was the last sheet of film in my holders and I only took this one shot. I don't recall aperture or shutter settings but they were good enough! I had been loading film into holders during the workshop in less than pristine conditions and on close inspection there was a lot of dust on the negative which detracted from the enlarged print. I recently scanned the negative and cleaned it up digitally and then made a digital negative on Pictorico premium OHP, suitable for contact printing on 12 x 16 paper. This is a digital photo of the print itself which is a silver gelatin contact print on 12 x 16 Ilford MGIV paper in Dektol and toned in selenium.
In my early twenties, in 1983, I set up my first dark room in the bathroom of my small Randwick flat. I had just acquired my first "proper" camera, an Olympus OM2n, and I was rolling bulk FP4 film into re-useable cassettes. Shortly afterwards, I welcomed the first of three children and so began about fifteen "Kodacolor Gold years" as the strain of raising a young family and clawing up the corporate ladder effectively terminated almost all darkroom time.
As I turned forty I dusted off the old equipment, built a permanent darkroom and started to acquire many new camera formats including 4 x 5, 5 x 7 and 8 x 10 view cameras. I participated in many workshops and am grateful for the learning opportunities provided by Gordon Undy, Bob Kersey and Ellie Young, in particular.
Around this time I also started to earnestly pursue gig and concert photography, in 35mm black and white film, and had exhibitions of this work in 2004 and 2010.
I recently quit the corporate world and have set up a small business entity called SilverTone Studio. I am interested in preserving family history and breathing new life into those boxes of slides, negatives and prints which often emerge from a deceased estate. I am also offering black and white film development, printing and workshops for small groups in my home darkroom and studio in Sydney.
I would welcome any inquiries or contact from fellow photographers.