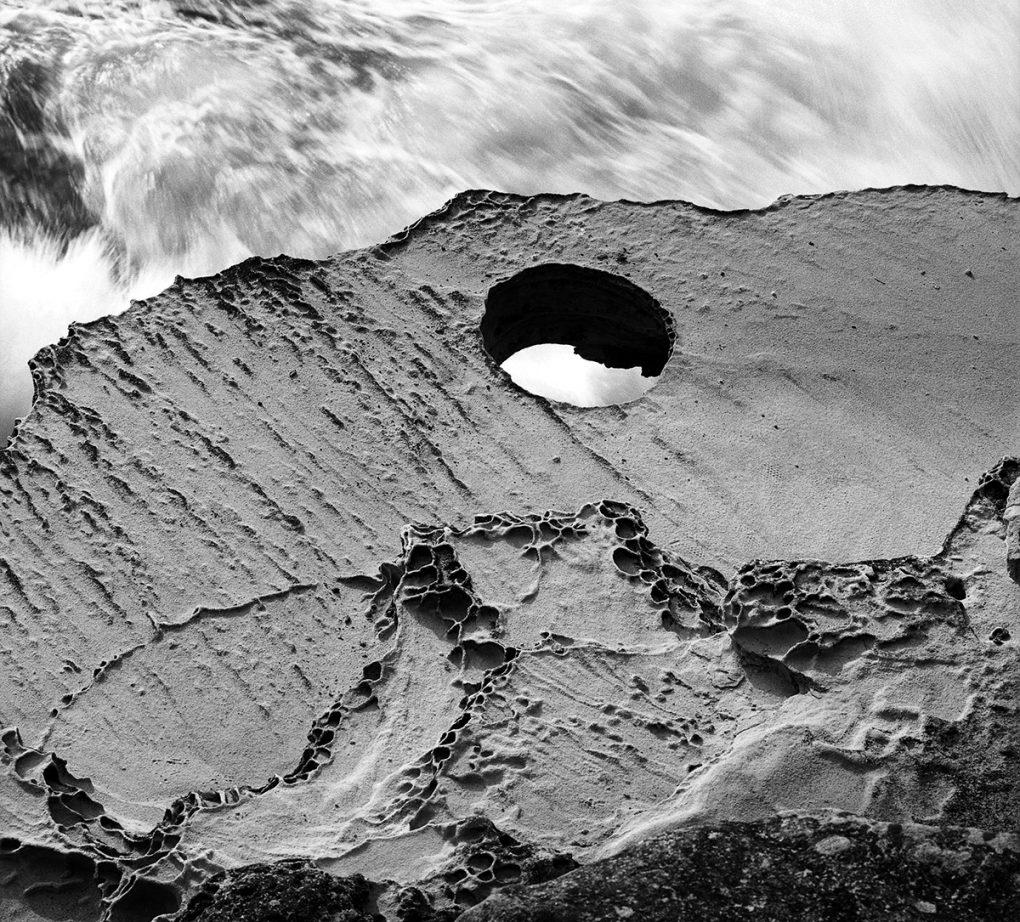 Exhibition: Sand in Silver – Tony Egan
An exhibition of silver gelatin photographs by Tony Egan. The Corner Gallery. Stanmore NSW until 13 August 2018
'This is an exhibition of hand-made, traditional silver gelatin photographs made in my darkroom during the last 2 years or so. They document some of my wanderings along the sandstone coastline of Sydney in the years 2013-2018. These photographs were all shot on black and white film usually in the early morning or late afternoon.
I had admired for many years some of the magnificent sandstone buildings of Sydney. It was the practice of many new settlements around the world to use the most common and efficient building materials within walking distance. In the case of Sydney, it was the rich, soft sandstone which could be cut into blocks to form the foundations and walls of the earliest public buildings and private residences.
While early colonists tamed this material into orderly forms, I am fascinated by the many ways wind and water has transformed this material into a kaleidoscope of shapes and tones. I found the more I looked the more I saw. Increasingly, I noticed connections in these shapes to other material things, cultural references and my imagination. The creativity of nature is invariably superior to the best we can create with hammer and chisel.
It's a well-worn cliché to say the journey is more important than the destination. These prints are in a sense the destination, but the journey has been a most rewarding and invigorating part of getting to this point. In a city of 5 million people it is still possible to travel a short distance and feel totally alone while contemplating the effects of millennia of tide and erosion on a cliff face. Being surprised by a large wave, confronting a red-bellied black snake blocking my path and excitedly pressing the shutter for an hour only to realise there was no film in the back, were mere speedbumps on the road.
I recently came across a quote attributed to the renowned American photographer W. Eugene Smith. He said:
"Photography is a small voice, at best, but sometimes one photograph, or a group of them can lure our sense of awareness".
I think I am now far more aware of the composition of the ground beneath me and the power of time and the elements to shape our physical world.' Tony Egan.
Main photograph: The Perfect Circle – Cape Solander. 2013  Silver gelatin print. Tony Egan