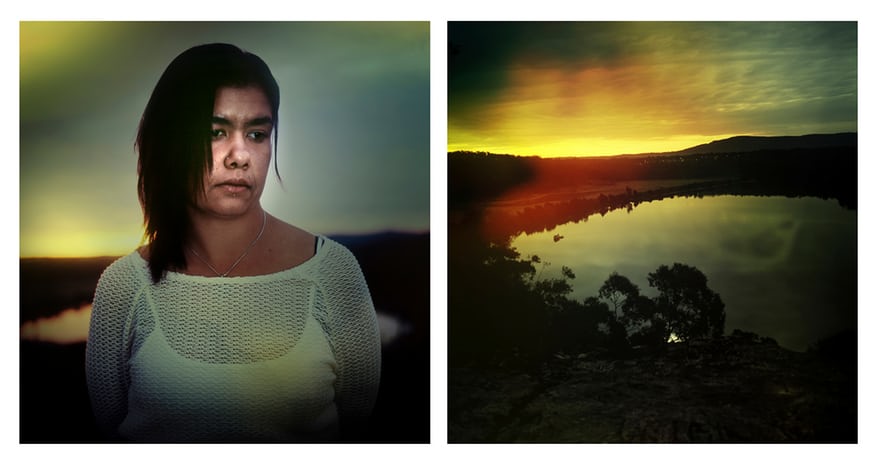 Photo Essay: After the Apology – Aletheia Casey
This photographic series by Aletheia Casey explores the effect of the Australian government's apology on Indigenous Australians, both the stolen generations and also those who were indirectly affected by the policies of the past. The images tell the story of women who have been marked by historical injustice but who have worked towards a point of healing. The images are a mix of landscapes and portraits – the landscapes speak of memory and attachment to place, while the portraits explore identity, grief, loss and reconciliation.
Photographed with a large-format camera and expired film. The treatment of the images is intended to stimulate memories, thus becoming a landscape which contains deeply embedded memories and speaks of attachment to a time and place. Expired film enhances random chemical aberrations, exaggerating the imperfections of the marks on the surface of the film. The imperfections and distortion of the film are reflective of the irretrievable past, where memory is blurred and altered by the passing of time. These wounds on the surface of the film are reflective of the scars of history and, like our own personal history, remain etched within us.
Aletheia Casey worked as a Motion Designer for 13 years in the Television industry before dedicating herself to photography. During the last 7 years she has published and worked with The Sunday Times Magazine, The Financial Times Magazine, BBC London and BBC World, Getty Images Worldwide, Australian Associated Press, BBC Wales, SBS Television, Newspix Images and various international publications.
Aletheia has exhibited at the National Portrait Gallery, Foto8 (London), The Royal Shakespeare Company (London), The National Geographic Society (London), Black Eye gallery (Sydney) Mother (London) and at the Australian Centre for Photography. She was named a winner of The Magenta Foundation Flash Forward Emerging Photographer Award for the UK in 2012 and 2015, a finalist for the National Photographic Portrait Prize in 2012 and Bronze and Silver winner in the Documentary category of the PX3 Awards in France. Aletheia has twice been named a finalist for the Environmental Photographer of the Year Award.
During 2014 Aletheia was mentored by Magnum Photos as part of the Ideastap and Magnum Photos Photographic Award. She recently completed her Masters of Photojournalism and Documentary Photography through the London College of Communication and graduated with Distinction.