Tiptoe through the sea tulips by Christine Scott-Young
A report of the 'Friends of Photography Group' Cape Conran Coastal Park weekend, led by David Tatnall, 4-7 August 2017.
I am making a close-up, medium-format photograph of a sea tulip as it lies freshly washed up on the beach at Sailors Grave. Still vividly coloured in oranges and reds, it resembles a pulpy internal organ on a stem. I crouch over this other-worldly form and locate it in my camera's viewfinder so that it fills much of the frame. In this moment, through the lens, the only things in the world that matter are what directly affect my scene – the waves lapping at the picture edges, the wind and sand, the sun and clouds, my shadow. I minutely adjust the focus, turning the ring this way and that… press the shutter button…
I look up from my camera and remember that I am not here alone. Up and down the beach, other members of the Friends of Photography Group (FoPG) are also finding their own moments. A Melbourne-based film photography group, we are slowly but surely exploring Victoria with our cameras. Since its formation in early 2015 under the guidance of esteemed photographer David Tatnall, FoPG has had many and varied excursions, from the CBD to more distant national parks across the state.
And so here we are, on an early August weekend, photographing around Cape Conran Coastal Park in far East Gippsland. The area is a dramatic play of nature. Sharp rocks pierce through the water at all angles as waves crash against them. Banksia woodlands nudge up to the beach, a mess of trunks and branches so thickly textured they look embroidered. And flitting among it all are impossibly small wrens in their bright blue feathers. The air is so crisp and clear that I feel as though my eyes have been wiped clean of their usual layer of city pollution.
Wendy Currie at Sailors Grave Beach
But let's begin at the beginning… After arriving just as the sun was setting on Friday, my first chance to catch up with the group is a dinner in Marlo, a few kilometers from Cape Conran and the very place where the Snowy River meets the sea after a long journey from the slopes of Mt Kosciuszko. Comfortably seated in the pub, our party of 16 relaxes into the evening over food, drink, conversation and some raffle wins.
Saturday presents itself in beautiful shape. I step out into the morning sunrays, winter-weak but still warming to the soul. The first destination is Sailors Grave, where David already has his kettle boiling for a very welcome cup of coffee. This segues into our official event group portrait. Today we are using a stereo camera for the task, which documents us all in glorious 3D. From there, we drift apart along the beach and then further out to other sites, all pondering the landscape with our own particular camera set-up. Over the weekend, the gear I see is broad and eclectic, including a 360 degree panoramic camera, a 3D-printed pinhole, a giant homemade 11×14 pinhole, a very light plywood 4×5 field camera and a tiny 8x11mm spy camera.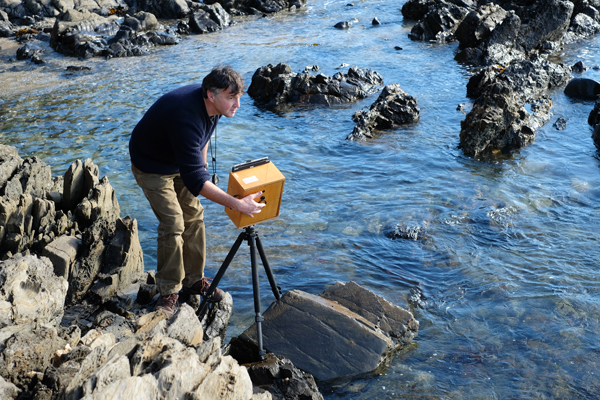 Shane Booth at Sailors Grave Beach
As the light begins to fade, dinner is the next item on the agenda and the group once again collects in Marlo. This is followed by another key activity of FoPG – a print viewing. Theoretically, this involves members showing their output from previous FoPG adventures, generating helpful discussion and feedback. But as our group grows, each new person adds a whole new set of ingredients to the mix and there is no predicting what will emerge as a result… tonight there is everything from learning about an alternative printing process, to personal insight into a body of work recently exhibited overseas.
Sunday is another sunny delight, and the group assembles at Cowrie Bay. Here the rocks form a natural little gathering place, perfect for morning tea and a biscuit. The conversations that started over the previous two days are continued in more depth, before we scatter across the rugged beach terrain to make more photos.
By lunch, it is time for me to pack up my camera and head back home to Melbourne. As the roads become busier the closer I get to the city, I take heart in the knowledge that I will be able to revisit the weekend's amazing scenery as my film is developed in the darkroom and a selection of negatives handprinted onto paper. And, if all goes well during these processes, perhaps the sea tulip will be part of my next contribution to the ever-evolving FoPG dialogue.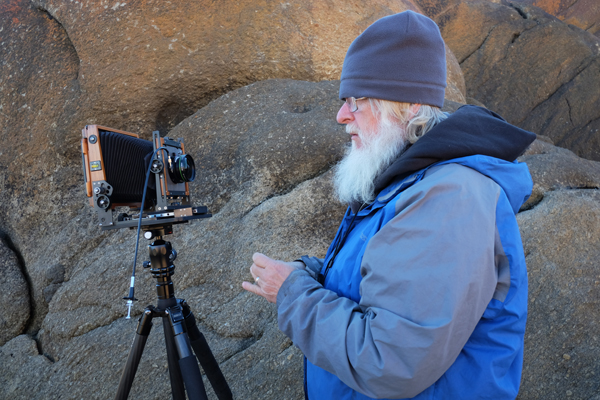 Peter de Graaff at Salmon Rocks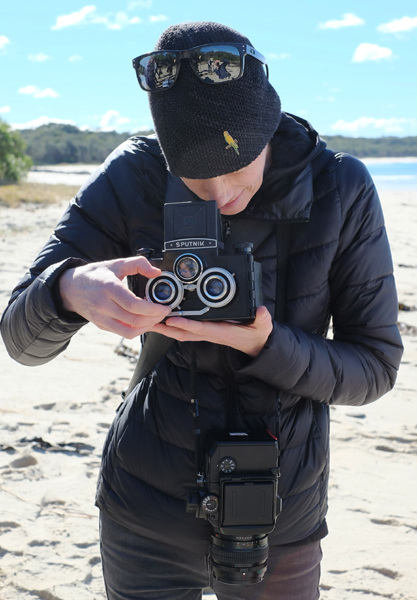 Christine Scott-Young at Sailors Grave Beach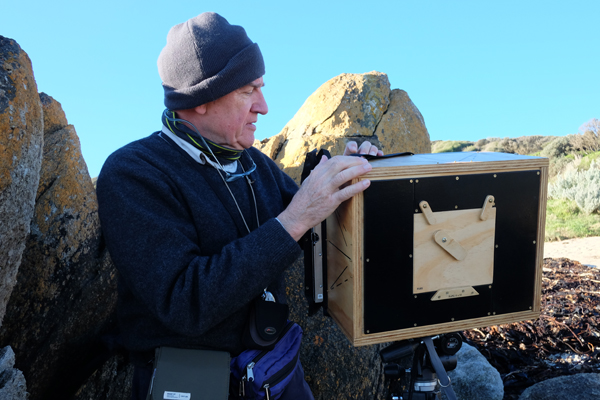 Lloyd Shield at West Cape Beach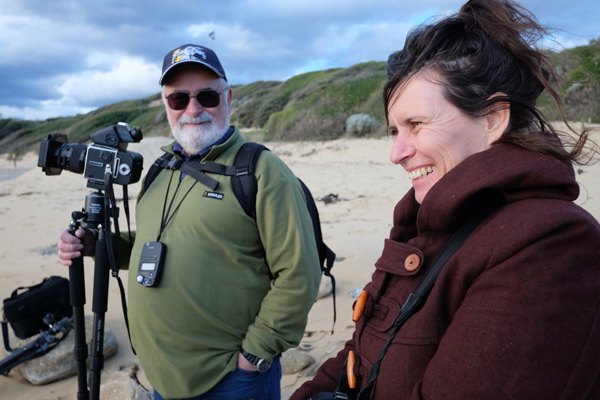 Peter McDonald and Rachel Mounsey at West Cape Beach
Main photograph: Ian Raabe at West Cape.
Photographs of the photographers by David Tatnall.
Sea tulip – Pyura spinifera at Cape Conran