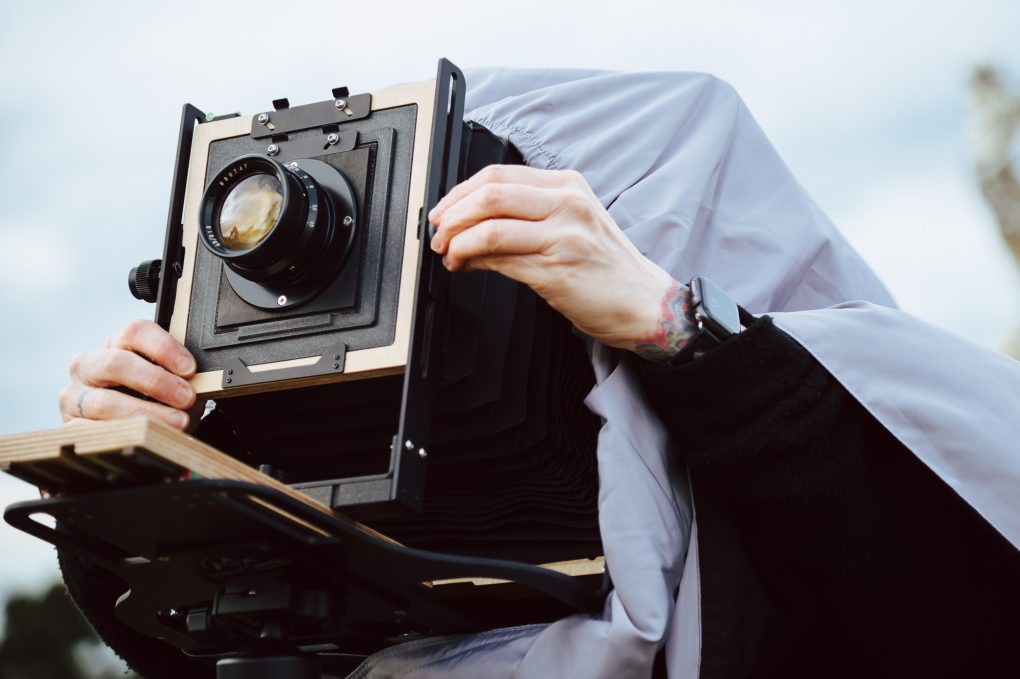 Review: Intrepid 8×10 MK 2 by Anjella Roessler
Intrepid cameras are interesting beasts. According to the company, they are aiming both to those new to large format, and to those who have been shooting for a longer time but wanting a lighter and more compact camera. While many dismiss these cameras as "toys" or sneer at their plywood construction, the cameras are very much worth a look. Will they suit everyone? Of course not. The Intrepids do lack refinement and have definite limitations. The biggest pluses, above all, are that the company is willing to listen, and refinements are constantly being made based on feedback. While this does not help when you have bought the earlier pre-refined model, they are often willing to help with parts, where available and suitable. All else failing, if everything else about the camera suits, the price is such that it is not inconceivable to consider upgrading after a couple of years to the next model.
Now as a caveat, I am no technical wizard, and my preferred photographic medium is the paper negative. My style of creating photographs has been likened to that of improvised jazz by my son who is a musician! Up till now I have been photographing 4×5 with both the Intrepid Mk2 and the Chamonix 45F-1 as well as a Wista, Speed Graphic and Graflex Graphic. My main users are most definitely the Chamonix and Intrepid. I also own a Tachihara 8×10 which fell into my hands around the same time as the Intrepid 8×10 arrived.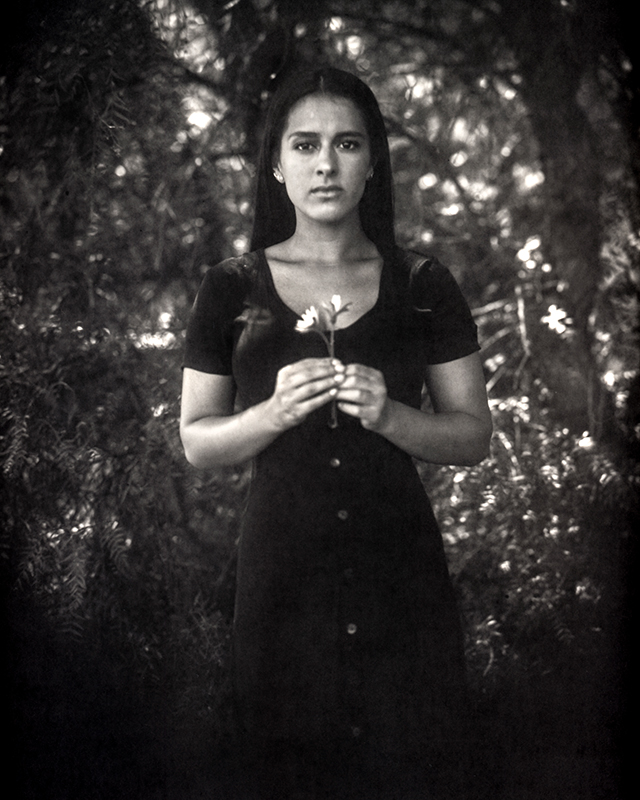 Intrepid's announcement of their 8×10 caused some interest to me, but I decided to wait until the camera was in at least its mk2 stage, where substantial improvements were likely to have been made. Thus, hearing of the release of the updated camera I ordered a black-bellowed camera plus the Sinar-Linhof adaptor board and waited…and waited. A four-week ETA turned out to be 24 weeks and a camera damaged in the mail arrived just before Xmas, but Intrepid quickly offered to replace it and another couple of weeks later I finally had my 8×10. This tends to be my findings of Intrepid in general; some things make you so irritated but then some things are just so good that it is hard to know whether you hate or love them!
The camera itself is a combination of birch plywood and high grade aluminium. The aluminium base is a new addition and one which gives a lot more support to the camera while still keeping it relatively light. I would be concerned that the older models with the wooden base may experience some warping, but this newer base solves that issue and gives good stability. It also gives the camera less of a homemade look. The Intrepid is very light for an 8×10 camera. It folds down compact and the cut outs on the base make it easy to carry for short distances. I have still to find a satisfactory bag for my 8×10 equipment, but if I'm not going far, I can manage pretty easily by carrying it and having my other equipment in my bag.
The camera sets up easily. The more I use it the more it does seem to be settling in and getting a little smoother. Initially my rise and fall movement was a little stiff and required a bit of fight but it has become manageable. In comparing it to my 4×5, I do miss the detent to show where centre is, as well as the lines on the base board to position the lens and ensure everything is straight, however these are minor points, and the great thing about these cameras is that they are easily customisable, so I'll eventually mark them on myself. The rise/fall and tilt controls being on the same screw took me a little while to get used to, but once I had used it a few times it feels very natural and easy. A definite upgrade is the screw for the front standard is now attached so no fear that I could lose it down some drain at a critical moment while setting up. A small thing but so welcome!
The rear of the camera also tilts. No detent here either which makes it a little fiddly to lock upright. There are levels on the camera, however when you're on the shorter side, these aren't always easy to see, so I do miss having a way to know by feel that the camera is where I want it. Front swing only, though that is pretty standard for a view camera. The ground glass is basic but works. It is marked into a grid allowing for easy lining up of horizontals and verticals. You definitely need a dark cloth but it's not any dimmer than my Tachihara's glass. I added a Fresnel to my 4×5 and will probably add one to this eventually, but it is not bad overall.
The camera converts from landscape to portrait fairly easily. The idea is simple anyway, however the back is held on with high strength magnets and getting it detached can take a bit of effort. I guess the good side is that there's very little chance it may randomly fall off! The camera can now be folded up with the glass either vertical or horizontal which is one of those small things that just makes life easier. The ground glass is held in place with high tension spring clips, and in all honesty, this is probably the only annoyance I have with this camera. I have heard the same thing on other forums, so it is obviously a problem. One of my clips is slightly askew, probably by a millimetre. It means however, that I have to fight to get my film holder in, as the spring will fling off the side if I'm not extremely careful. I then need to prise it off the camera body and wrestle it back onto the ground glass holder while also trying to not move the camera. As I use the camera, I'm becoming more aware of how I need to move it to stop this, so sometimes it's a matter of learning the quirks and working with them. If I were at all DIY, I could probably fix this myself, the basic structure of the camera makes repairs very simple.
Focusing on this camera is done via a rear knob and it is wonderful! It makes it so easy, especially when you have short arms. When I am using the Tachihara I sometimes have to actually go around the front to focus and then go back under the cloth to check, repeat, it can be quite a workout. The Intrepid makes it so easy. This is probably the feature that has really sold me on using my Intrepid more than I thought I would. The Tachihara is refined and smooth. I don't have to battle with it to load a film holder, but the Intrepid's rear focusing; I just love it. Until I can afford a Chamonix 810 this camera will get a lot of use.
Intrepid cameras are not for everyone. They are basic, but they are an affordable way to get into large format photography. Their lightweight build and pricetag are probably their biggest pluses. We don't have many companies still producing large format gear and so I applaud companies like Intrepid who are working on keeping it alive and spreading it to users who might otherwise not have dunked their toes into the stream of large format photography. The company have just announced a 5×7 version as well as a 5×7 reducing back for the 8×10. I personally am waiting for the 16×20 Intrepid, that would be the dream!
Anjella Roessler's bio can be seen here.
More of Anjella's photographs can been seen on her website.
The Photograph Considered number ten by Anjella Roessler can be seen here.
More information about the Intrepid 8×10 mk 2 can been seen on the Intrepid Camera Company's website.