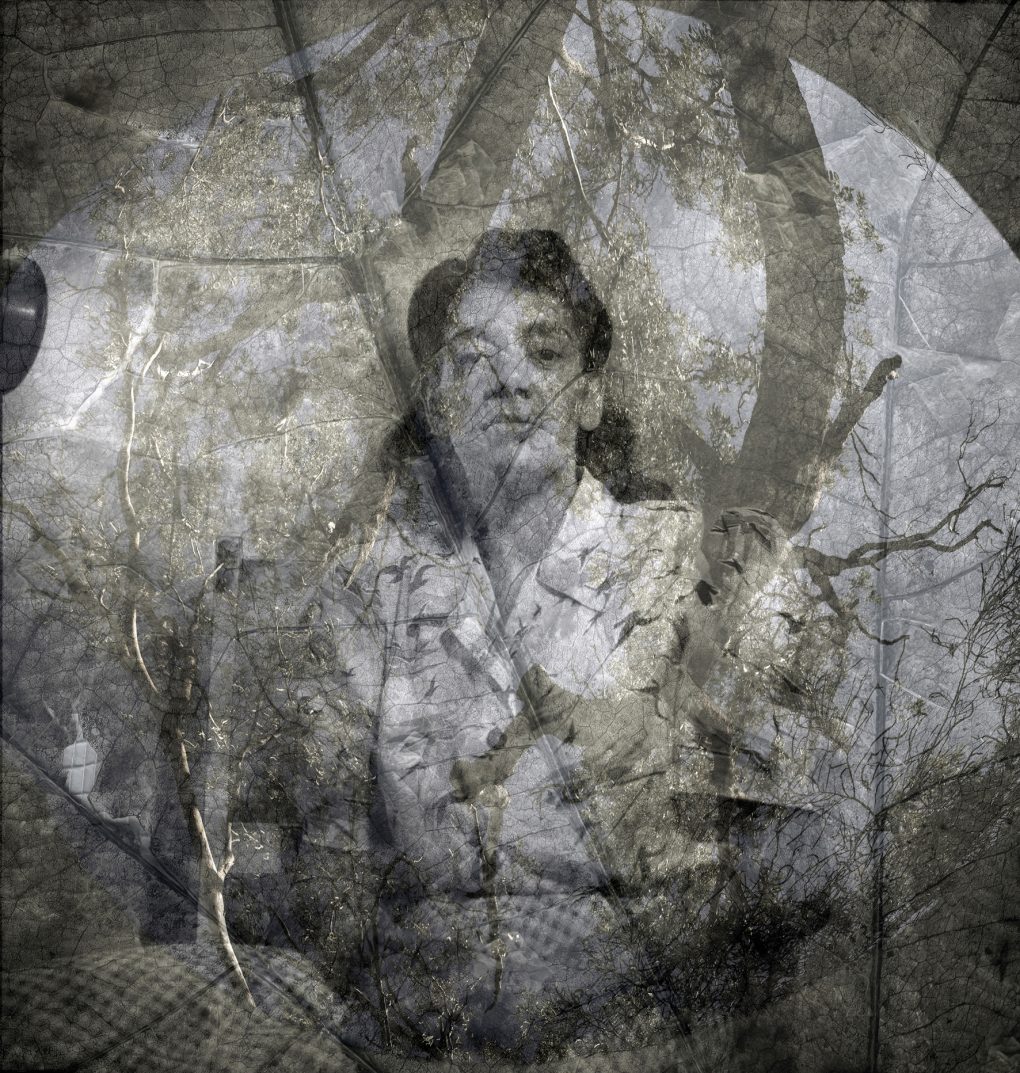 Exhibition: Dreaming Mum again – Leah King-Smith
'Leah King-Smith is both a previous Bowness Photography Prize finalist and an Monash Gallery of Art collection artist. King-Smith is a Queensland-based artist with a photographic practice extending across three decades. This exhibition presents the series Dreaming Mum again which includes King-Smith's Bowness Photography Prize work from 2018. This series depicts the artist's mother placed back into the context of her ancestral lands through King-Smith's signature process of layering photographs.
King-Smith's 1991 series Patterns of connection is widely recognised and has been exhibited extensively both in Australia and overseas. Her practice explores ideas of identity and how they can shift over time. King-Smith's practice pushes beyond conventional boundaries of photography to propose ideas of cultural agency and interconnectedness.
In 2018 to accompany the Bowness Photography Prize exhibition, Monash Gallery of Art launched an annual exhibition series to showcase and explore the practice of a past winner or finalist. This initiative provides MGA with the opportunity to support, profile and champion past Bowness Photography Prize finalists and invites audiences to delve into their practice in more detail.'
'MGA's exhibition program champions Australian photography and its artists. The beauty of the Bowness Photography Prize is that we have the opportunity to see in a snapshot the diversity, breadth and intensity of photographic practice in Australia. The annual Bowness Photography Prize alumni exhibition is just one way we strengthen our ongoing relationship with Australian artists as we celebrate contemporary photography.' – Anouska Phizacklea, MGA Gallery Director
'In my use of camera, mirror, scanner and photo editor, I choose to layer and sometimes distort multiple lenses and perspectives. By weaving photographic moments and places together, I am constructing a web of connections – of associations that expand the view, as it were, beyond the foreground/middle-ground/background relationships of a one-lens perspective. I could say that my work is photography dreaming.' – Leah King-Smith, artist
Monash Gallery of Art. Victoria. 5 October – 17 November 2019
Leah King-Smith (1957– ) is a Bigambul descendent born in Gympie, Queensland and currently living and working in Brisbane. King-Smith studied photography at Victoria College in the 1980s and went on to complete a Master of Arts at Queensland University of Technology in 2001 and graduated from the same university with a PhD in visual arts in 2006. She began exhibiting her works in the 1980s and has since exhibited widely both nationally and internationally. Known for her layered photographic compositions, King-Smith creates works that reflect her Aboriginal heritage and explore issues relating to the representation of Indigenous people.
Main photograph above: Leah King-Smith. Studio 2018, from the series Dreaming Mum again. 93 x 98 cm chromogenic print.
Below: Leah King Smith. Baby 2018, from the series Dreaming Mum again. 105 x 86 cm chromogenic print.