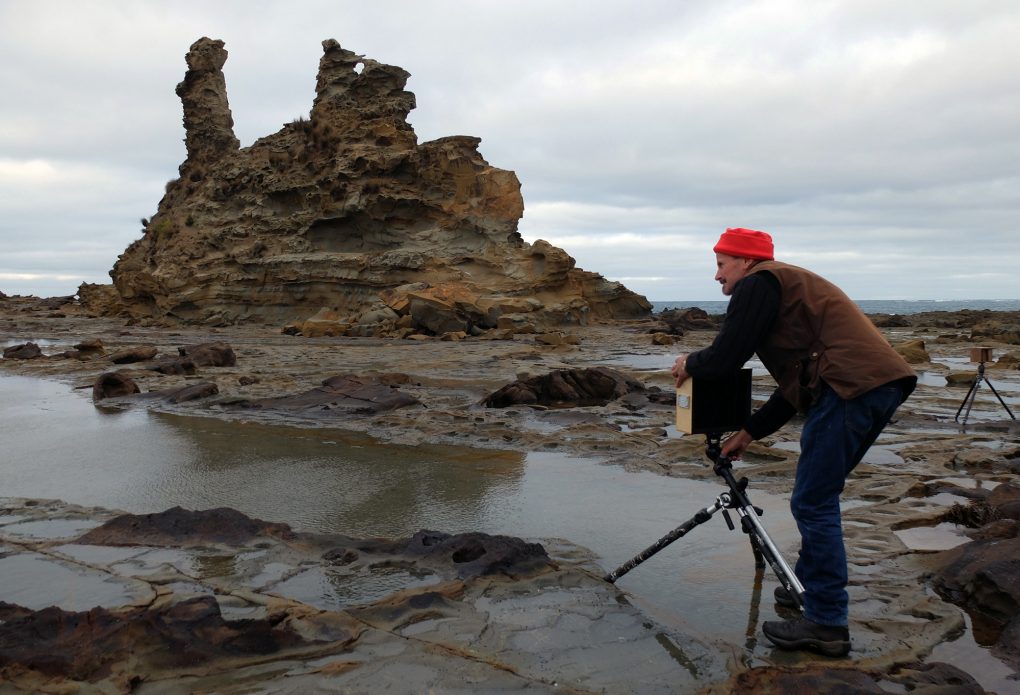 Friends of Photography Group 2015-2021
After six years the Friends of Photography Group has ceased.
The Friends of Photography Group was never something that was planned. It started out as a one-off three-day large format pinhole workshop at Cape Paterson I lead in 2015.
By word of mouth more and more people wanted to know 'when was the next one?' By the end of 2015 the Friends of Photography Group was formed, firstly as a group of large format photographers. With partners and friends wanting to join in too the group evolved into a film photography group. During the group's active time cameras from miniature 16mm spy cameras to 11×14 view cameras were used.
An important focus was obvious in the group's name, Friends of Photography; I wanted the group's emphasis to be on photography not cameras. So a very important event we held regularly was the Print Viewing where recent photographs were brought for discussion. Over the group's life span we held thirty-two print viewings. This became a very important event the group's life.
I arranged regular one day and twice yearly three-day trips to different locations around Victoria for the group. Places visited included the Little Desert, Cape Conran, Mount Buffalo and The Otways. Ten three day and twenty-six one-day trips have been undertaken between 2015 – 2021.
I then expanded the experience for the group into exhibitions in a gallery, again focusing on the print not the camera. The first Group Chemistry exhibition was held in 2017, three exhibitions were held until Covid19 intervened. So in 2020 three online exhibitions were undertaken on the group's website in place of Group Chemistry 2020.
My aim in facilitating the group was to be inclusive, to enable all to join as long as they used film in some way or form. All the events were free of change. I wanted the work the group made to be the best possible and for everyone to learn from each other.
After six years it's now time for me to move on and concentrate more fully on my own work. It has taken a lot of time and energy to run the Friends of Photography Group. The group has now become very large; so much so that limits on people attending activities had become necessary.
The Friends of Photography Group has now ceased.
The group's website and social media page will remain online for the immediate future. 
David Tatnall is a fine art photographer based in Melbourne, Australia. His work has been collected by The National Gallery of Victoria, Monash Gallery of Art, State Library of Victoria, and the Australian Embassy in Washington USA and well as a number of regional galleries in Victoria.
He was Artist in Residence at the State Government's School for Student Leadership's remote campuses for twenty years where he taught film photography to 6000 students.
He taught large format, pinhole and darkroom workshops for thirty-five years in Australia and overseas. His work has been exhibited and published widely.
In 2000 he was given a lifetime achievement award by Parks Victoria for 'An outstanding contribution to nature conservation in Victoria through photography'. He was also made an Honorary Life Member of the Victorian National Parks Association.
David Tatnall is represented by Chrysalis Gallery.
Main photograph above: John de la Roche with 8×10 pinhole camera on the first trip in 2015. Photograph by David Tatnall.