Vale: William Heimerman 1950 – 2017
Bill Heimerman: photographer and director of The Photographers' Gallery & Workshop.
It is with sadness that we note the death of photographer and director of The Photographers' Gallery & Workshop Bill Heimerman.
Bill with Ian Lobb ran The Photographers' Gallery & Workshop in South Yarra, Victoria from 1975 – 1977. Bill went on to be sole director from 1977 until 2015. The gallery played a significant role in the development of fine art photography in Australia.
During the period 1975 – 1981 every second exhibition held at The Photographers' Gallery was an international exhibition. The photographers exhibited included: August Sander, Edouard Boubat, Emmet Gowin, Paul Caponigro, Ralph Gibson, William Eggelston, Eilot Porter, Wynn Bullock, William Cleft, Harry Callahan, Aaron Siskind, Jerry Uelsmann and Brett Weston.
Australian photographers exhibited there include: Jeff Busby, Jack Cato, Christine Cornish, Carol Jerrems, Steven Lojewski, Ian Lobb, Christine Godden, Harry Nankin and David Tatnall.
The gallery ran workshops by: Harry Callahan, William Clift, John Cato, Ralph Gibson, Ian Lobb, Stephen Lojewski and Les Walking.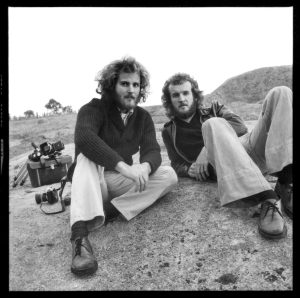 Bill Heimerman & Ian Lobb. Dog Rocks. 1975. Photograph by Carol Jerrems
'The most significant time for contemporary Australian photography was the period from mid 1975 to 1977. Three singular events occurred which provided local artist/ photographers with more hope and encouragement than some thought they had any right to expect. In the latter half of 1975 Bill Heimerman and lan Lobb took over the Photographers' Gallery in South Yarra. With a new and dynamic policy they challenged the status quo and, in time, changed the course of the previous five years.
While actively seeking new, local work they were determined the gallery would never compromise itself, and only photographs of the highest quality would be exhibited in the hope that Australian standards would be lifted to an international level. After an initial, brief flirtation with local photography it became evident that the homegrown product was noticeably shabby, and the gallery embarked on the risky program of bringing the best contemporary, international work to Australia.
By doing this it was hoped that a better understanding of print quality would follow, that internationally acclaimed work would break down the public resistance to photography as an artistic medium and that buyers, both public and private, would respond to a venue which allowed them to view overseas work before purchasing. The gallery was to become a locus and the means whereby Australians, working at home, could gain credibility overseas. By 1977, with a series of first class exhibitions behind them, Heimerman and Lobb organised the first workshop to be conducted here by an American photographer, Ralph Gibson. In previous years we had seen lecture tours by Szarkowski and Friedlander but these were poorly publicised and attended. The gallery has also sponsored visits by William Clift and Harry Callahan who have both inspired and encouraged those lucky enough to meet them. Today the Photographers' Gallery is run solely by Bill Heimerman, lan Lobb having left to pursue his photography, and with an enviable record of exhibitions and workshops is seen as the premier gallery in Australia; a show there is a genuine honour'.
~ Tony Perry 1980
Main Photograph: Bill Heimerman at Dog Rocks. 1975. Photograph by Carol Jerrems.