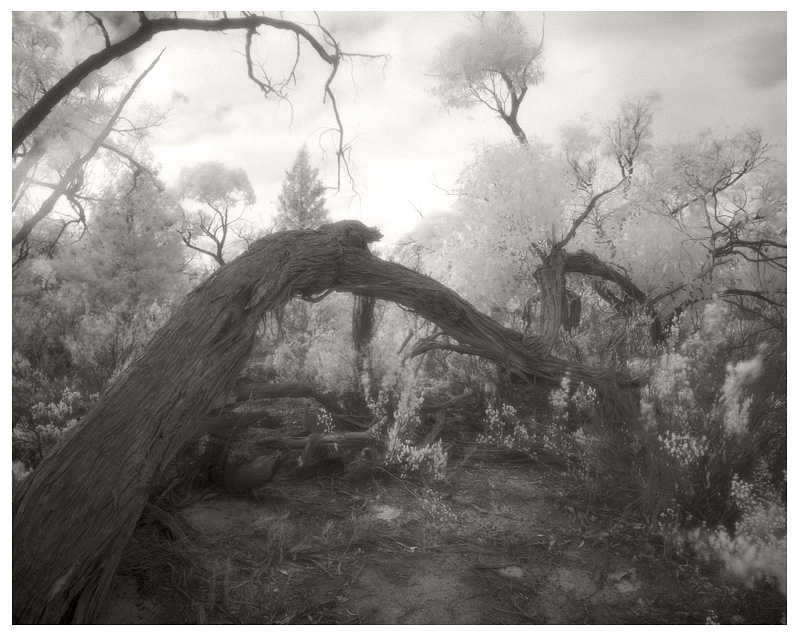 The Photograph Considered number sixteen – Shane Booth
Silver gelatin print from infrared negative
This image was made during a regular outing by the Friends of Photography Group to Little Desert National Park, 375 km west of Melbourne. We were fortunate to be staying at the Little Desert Wilderness Lodge near the park's boundary. This allowed easy foot access to the park without the need to drive the sandy 4WD tracks. Little Desert is an interesting area. A desert only in the terms of the amount of rain fall it receives, its sandy soils support a variety of flora including native orchards, Red gum, Cypress pine and Casuarina trees.  The landscape would be best described as "untidy" making photography challenging, particularly when the sun emerges.
The image of a fallen trunk, sweeping through the scene ending in glowing foliage. The reality of the scene is further altered by moving clouds that act like a lightbox, soften the view.
Perhaps that what photography is about, showing something in a different light.
The image was made using Infrared (IR) film, 4 x 5 MacoPhot IR820c rated at ISO100 with 5 stop allowance for the R72 IR filter plus an extra dollop of light for reciprocity. My notes say it was 8 sec at f22. I use IR film when I feel the weather and location may lend itself to the particular image it produces. The extended sensitivity of the film when exposed through a R72 filter allows non-visible light to be recorded on film, rendering blue skies dark and foliage light and glowing. When clouds drift across the scene it results in a softer, lower contrast image. I used a 75 mm Nikkor to elongate the tree trunk, adding some swing to keep it in focus. Stopping down to f22 negated the need to worry about focus shift that occurs with IR film. Finally the film was developed in Rodinal and printed on to Fomatone MG 132.
While Kodak, MacoPhot and Efke IR films are no longer available, Rollei still make a B&W  IR ISO 400 speed film in 4 x 5 , 120 and 35 mm.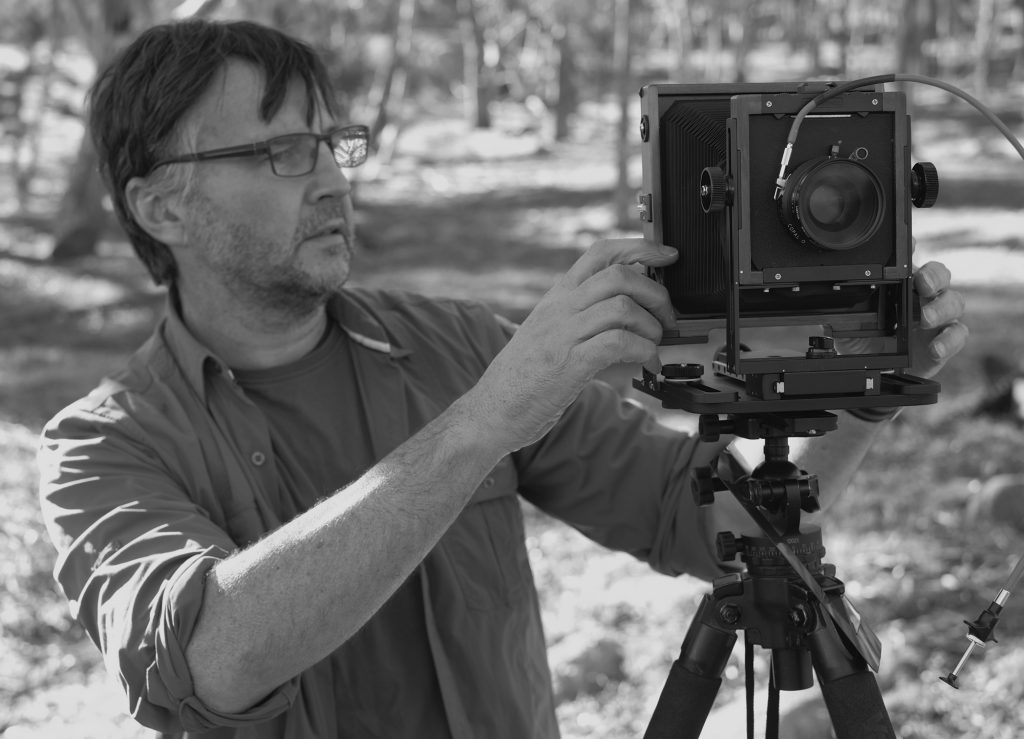 Shane Booth with 4×5 camera.